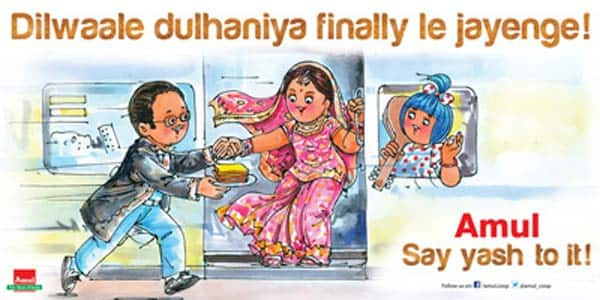 Dilwaale Dulhania Finally Le Jayenge says the latest advertisement of the popular brand…
Aditya Chopra and Rani Mukerji's wedding created hysteria like no other. The two tied the ceremonial knot in a rather private affair in Italy recently, but the moment the news of their marriage broke everybody started talking about it. So much so that it was an ideal topic of discussion at water coolers in our offices. If the buzz about Rani's wedding was so strong, how could Amul people resist themselves from cashing on the most talked about wedding of the season?
Here's the teaser (in the literal sense of the word), the quintessential Amul take on Chopra scion's marriage with the ultimate Babli of B-town. Inspired heavily from Adi's movie Dilwale Dulhania Le Jayenge, Amul's creation made us giggle for the tagline that goes Dilwaale Dulhania Finally Le Jayenge, as we see Rani and Adi boarding the train a la Raj and Simran of the original film. What adds the much needed tadka to this hoarding is the additional tagline that goes 'say YASH to it!' The creative think tank of Amul surely knows how to keep their naughty tongue firmly planted in the cheek, no?