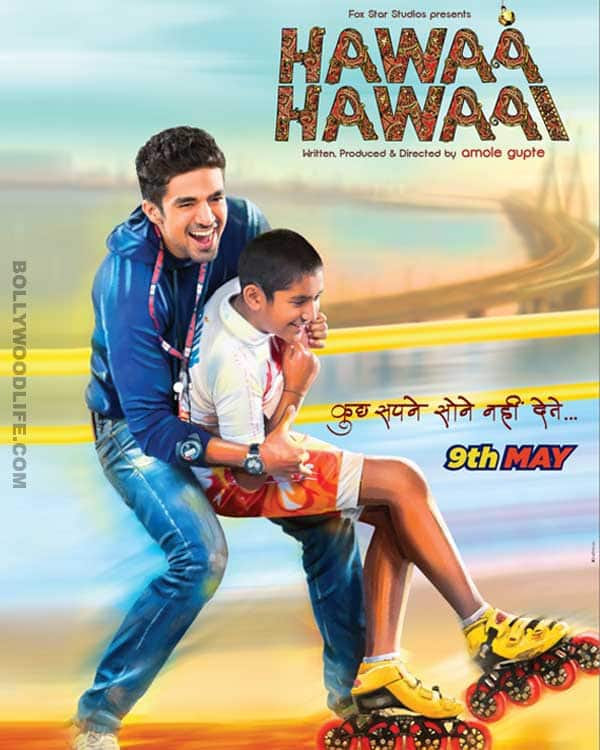 Hawaa Hawaai is definitely a good attempt at a 'good' Bollywood film
What it's about: Bollywood ignores two genres of films. sports and children's films. Amole Gupte brings both the genres together in one moving, touching and an emotional tale of a boy's dream. Hawaa Hawaai is the story of a boy Arjun (Partho Gupte) who moves to Mumbai along with his mother, little sister and granny after his losing his father and home. He drops out of school and begins to work with a tea seller. There's no joy in his life till he makes friends with three street kids. He watches rich kids skates and dreams of winning, with the help of coach Lucky (Saqib Salim), who mentors kids. his friends help him to make his dream come true.
What's good: Hawaa Hawaai has all the ingredients for an absorbing and touching film that anyone who has ever had a dream can relate to. It is an inspiring, well-cast and well-enacted film. The street kids will win you over from the moment they walk into the frame. Gupte captures friendship between the four boys so beautifully, you start hoping the story is only about that. He brings to life the children who work around us and we don't really see or do anything about. and for me that's the most important take away from the film. It makes you care without making the film about a social message. Saqib fares well as Lucky the coach. Scenes like when the boys all venture out to buy skates for Arjun aka Raju, when the little boy's mother takes him for the job then has second thoughts, or when he collects a day's salary late at night will melt your heart. Plenty of moments will have you smiling and dabbing your eyes alternately. Don't miss the boy called chore Salman Khan who is always shirtless. Pragya Yadav makes a confident debut in a small role. Neha Joshi is fantastic as Raju's mother. You need to have a heart of stone to not be moved by this film
What's bad: There is a fine line while telling an emotional story between moving and manipulating, and here the director fails us. After a point you begin to feel like too many emotional devices are being used. The tension between the brothers, the tragic accident how lost their parents, another accident by a drunk teenager that leaves Lucky with a broken foot, the convenient romance, … A lot of parts seem forced and preachy. Also, those many scenes of lighting diya in front of the dead father were not needed. The father looking on proudly from the window at the son reading out a chapter in the class — cheesy. It doesn't come together as well as in Nagesh Kukunoor's Iqbal, which remains my benchmark for a film like this. You hate yourself for noticing the flaws in a film that was made with so much heart and good intention. What could have been an honest film turns formulaic by trying relentlessly to drag an sentimental reaction out of you. The result could have been so much better had Amole stuck to the core.
What to do: Everyone who cribs that Bollywood doesn't attempt good films, must go see this.
Rating:
out of 5
Reviewed by Sarita A Tanwar, DNA
* Poor
** Average
*** Good
**** Very good
***** Excellent