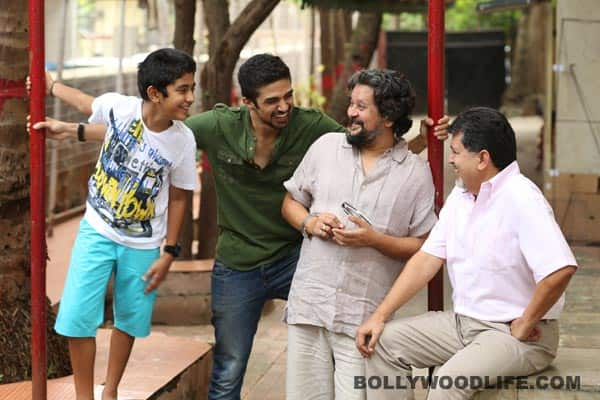 Amole Gupte pairs with his son yet again for this film after his much appreciated Stanley Ka Dabba
Harishchandra Waghmare (Makrand Dehpande) lits the lamp and a small room suddenly becomes alive, full of hope and faith. The father imbibes this learning into his son Arjun (Partho Gupte), a lesson to never loose hope. This opening shot of Amol Gupte's Hawaa Hawaai more or less tells you everything about the film. Where there is darkness, there is hope for brightness or the clichéd where there is a will there is a way.
Plot:
Produced by Fox Star Studios, Hawaa Hawaai is about Arjun who losses his father at a very young age and hence becomes the sole bread winner of the family. He joins a tea vendor's shop and works from early morning till late night. In the evening he watches Aniket Bhargava (Saqib Saleem) conduct skating classes for the kids on the Bandra-Kurla road. After observing the sport, the little one dreams of learning the sport. Arjun's gang of friends also help him chase his dream. Aniket Bhargava aka Lucky notices the potential in the kid and trains him for district level championship. Will Lucky manage to fulfil Arjun's dream? Will Arjun chase his dream or leave it mid-way? For this, you definitely should watch the movie this weekend.
Though the storyline is not really new, the in between elements of the film make you think about several issues. There are two of my most favourite scenes in the film. The first one is when Lucky shouts at Arjun for not performing well in practice and Arjun goes home and sobs silently with a mouth full of cloth pieces so that his mother who is sleeping right beside him does not know that her responsible son is in agony of pressure and self-disappointment. This one was really heart-warming. There's another one where Lucky realises that even if Arjun wins the competition, he will still have to work at the tea stall. His helplessness is captured quite well.
Performances:
Partho Gupte deserves a special mention for portraying the role of Arjun with so much of conviction that his performance seems effortless. His friends, Gochi (Ashfaque Bismillah Khan), Bhura (Salman Chhote Khan), Abdul (Maaman Menon) and Bindaas Murugan (Thirupathi Kushnapelli) are extremely adorable in the film. Each of them have excelled their characters. Saqib Saleem as Aniket Bhargava in the film has underplayed in the first half, but shines in the second half of the film. I guess that is coz his character becomes more believable in the second half. The supporting cast too has done a great job. Hitesh Sonik and Amole Gupte's music has added soul to this film quite literally.
Verdict:
As much as I liked the film, there were a few loop holes like the pace of the film. Also in some parts the plot jumps suddenly. Though this isn't really a major problem, more precision would have certainly helped the film quite a lot. To sum it up, Hawaa Hawaai is one of the biggest examples of modern cinema and should have its rightful existence amongst a plethora of big budget films. Watch it for the thought invested in the project if not for anything else.
Rating:
out of 5
Reviewed by Avinash Lohana
* Poor
** Average
*** Good
**** Very good
***** Excellent