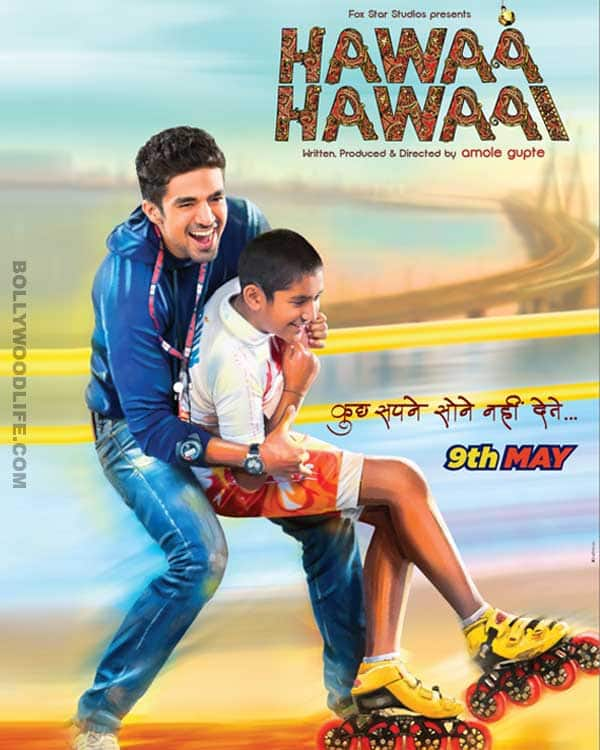 Music: Hitesh Sonik
Singers: Amole Gupte, Sunidhi Chauhan, Javed Ali, Swaroop Khan and Hitesh Sonik
Lyrics: Amole Gupte
Amole Gupte is up with another film, which many might call as a children film, but has a deep long lasting impact. Amole Gupte's Stanley Ka Dabba and Taare Zameen Par, were also said to be children based films, but weren't they for masses from all ages? The film is said to be a tribute to all those people who have dared to dream. Getting to the music, all Amole Gupte films are a class apart, as he has a good ear for music. So will Hawaa Hawaai be equally good? Let us find out in the song by song music review:
Choolhe ke angaarey: Sung by Amole Gupte himself, this song is a very metaphorical take on life. The song instantly strikes a chord with you as a listener because of the apt lyrics, which will make you introspect your life itself. The song, however, has a haunting eerie effect to it and is a bit slow to begin with and thus might only be appreciated by the connoisseurs of music and not by the general masses.
Ghoom gayi: Presented Sunidhi Chauhan, this song is a peppy and foot-tapping number. It is Sunidhi's effervescence that manages to pump up your spirits right from the word go. The tune is very catchy and will stay onto your lips for a long time. This song manages to lift up your spirits and urges you to enjoy your life at every situation.
Sar utha ke: Crooned by Javed Ali, this song is once again motivational and stresses on the importance of following ones dreams and never giving up on them. Javed Ali's mesmerising voice take your thoughts to a different level altogether. The lyrics are ponder-worthy and ask every individual to face the difficulties coming in the path of their dreams and to overcome them with optimism. The song is simple and that's what makes it an outright winner.
Hawaa Hawaai:  Hitesh Sonik and Swaroop Khan have sung the title song of the film and rightfully so is another very inspirational song. The singers have done a fantastic job. The song pushes the protagonist towards following his dreams and never giving them up as those dreams are giving him sleepless nights. The song is situational and will make more sense when you watch the movie. Although being good, this song will not be one of those which you will be humming throughout the day.
Sapnon ko ginte ginte: Sung by Hitesh Sonik, this song begins with a whistle, which instantly grabs your attention. Amole Gupte's lyrics have worked their magic in this song as they are very heartfelt and he is ably supported by the serene voice of the composer. The song shows the protagonist's despair in have left behind in this rat race. The lyrics are as simple as possible and Hitesh's voice manages to touch your heart and convey the inherent sadness of the child. Although being good, this song too is situational and will not become a chart buster.
Verdict: Hitesh Sonik has come up with a fantastic album, which will only please the connoisseurs of music. To add to the classic compositions are Amole Gupte's equally apt and stirring lyrics. Our picks of the album are Ghoom Gayi, Sar Utha Ke and Sapnon Ko Ginte Ginte.
Rating:
out of 5
Reviewed by Prateek Sur
* Poor
** Average
*** Good
**** Very good
***** Excellent