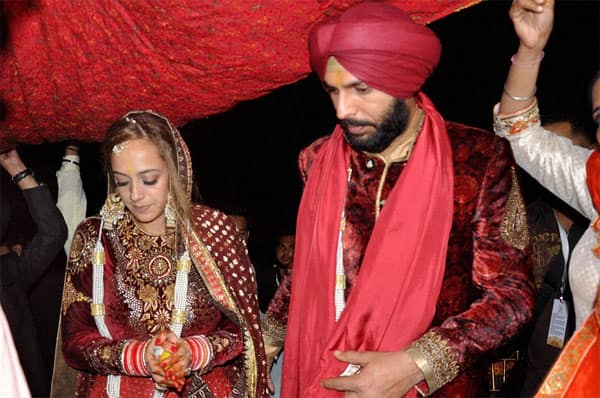 Indian cricketer Yuvraj Singh finally tied the knot with his long-time girlfriend Hazel Keech in a private ceremony at the spiritual dera of Baba Ram Singh Ganduan Wale in village Duffera (40 kms from Chandigarh) yesterday, in the presence of his close friends and family.
If reports of are to be believed then during the wedding,  Hazel was constantly referred by a new name Gurbasant Kaur by Saint Balvinder Singh, who was executing the rituals. It's being said that Saint Baba Ram Singh Ji suggested changing her name from Hazel to Gurbasant. It's well known that Yuvraj Singh and his mother Shabnam Singh are ardent followers of the saint and now it seems the new member of their family, Hazel, too has began following him.
Praising Hazel's spirituality, Shabnam Singh had said in an earlier interview, "She has also met our Guru ji a couple of times and she follows him truly and with full dedication, as she understands we cannot question our Guru Ji. We all know how he saved Yuvi from cancer and helped in bringing my boy back to life."
It's being said Yuvi's father Yograj Singh didn't participate in his son's wedding ceremony because of this very reason. He doesn't believe in the saint at all. However the bride and the groom visited him later in the day to seek his blessings.
It's surprising that Hazel has agreed to change her name as just a few months back she had raised her voice against being racially discriminated by a reputed money transfer company because of her seemingly un-Indian name. She was reportedly refused money from the company as her name didn't sound Hindu enough to them. "…May be I should change my name to Gayatri or Bhagwati next time. I even asked them if I should recite the Gayatri Mantra or Hanuman Chalisa. My mother is a Hindu and she is a brown Indian lady, who was with me when this happened. They gave me a tough time because I am fair-skinned. You cannot deny me something because of my name or the way I look. India is known for its diversity and such acts should not happen,"Hazel said in an earlier interview. But as they say when you're in love, everything seems right.
We just want to wish the couple a happy married life. ALSO READ: Yuvraj Singh and Hazel Keech to have a beach wedding in Goa – view invite
Hazel Keech did make for a an extremely gorgeous bride on her wedding day with Yuvraj Singh

Hazel Keech and Yuvraj Singh's matrimony was in fact, a grand affair to remember! The couple, who have been together for quite sometime finally tied the knot yesterday. Of course, the fashion police was at work as Miss Keech now Mrs Singh made some really cool statements at her wedding. As the wedding took place in Punjabi style, Hazel chose to look her ethnic best and yes, she definitely did justice to that. We all know how when it comes to Punjabi weddings, there are various ceremonies before the actual wedding day. So for the sangeet ceremony, Keech chose to keep it just as grand as her wedding. Wearing a JJ Valaya creation, the model turned actress looked very regal.

Image credit: Instagram

What was Hazel Keech wearing for her Sangeet ceremony?

The black embellished jacket looked royal. Although, the white ensemble she wore underneath was a little too contrasting with respect to colour as well as design. I'm not saying that it was all that bad but just that while the jacket was well finished, the white was plain. Perhaps a little shimmer or different shade instead of white would've done a better job of giving a bride-like feeling. Nevertheless, her headgear sure rewarded her extra brownie points. It made her look very radiant. As she stood with her groom, Yuvraj, who also donned a Valaya creation, Hazel looked damn pretty.

Image credit: Instagram

Hazel Keech opted for a JJ Valaya couture outfit for her wedding with Yuvraj Singh

For the wedding day, again, Hazel chose to don a JJ Valaya outfit. Just as stated by Singh's mother, Shabnam Singh, Hazel donned a beautiful red ethnic wear. Her outfit didn't scream shimmer as the applique work was very low key. Although, since the colour itself is loud, luckily the designs by Valaya weren't very flashy. Though many may consider her look not very wedding-y, I personally found this sober look very pretty. It didn't hurt the eyes like usually wedding outfits do. There was subtlety in the ensemble. Even her makeup was minimal. Now that's new. Usually people would just end up caking themselves on their big day but Hazel wasn't one of them. She looked good.

Image credit: Instagram

Hazel Keech opted for a bright yellow colour traditional outfit for her Mahendi ceremony

For her Mahendi ceremony, Hazel opted for a very pretty yellow colour traditional outfit which was going very well with the occasion. She has consistently tried to keep all her wedding looks as simple and subtle as possible and this is the major reason why we adore her so much. Infact this is one of her qualities which Yuvraj's mother Shabnam approves of her daughter – in- law. Hazel is extremely grounded and does not believe in splurging out on useless things.

Image credit: Instagram

Hazel Keech's choice of outfits was extremely sober and subtle unlike many other brides

Hazel might not have had loud outfits for her wedding but she sure nailed the Punjabi bride look. Keeping it simple and classy, we found her wedding looks really good. Next we gotta do is wait for her Catholic wedding pics for we know she's gonna be a gorgeous bride once again!

Image credit: Instagram