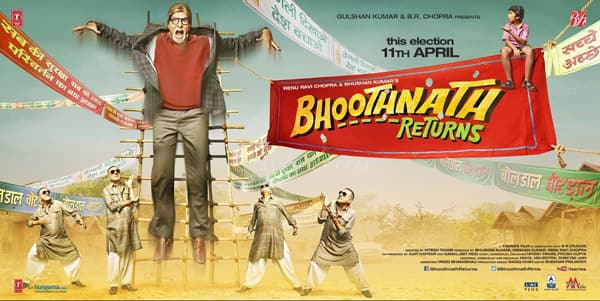 A Hindi writer had accused the makers of Bhoothnath Returns alleging that the film is a copy of his short story
A larger bench of the Delhi High Court today refused to interfere in a plea alleging that Amitabh Bachchan starrer Bhootnath Returns is based on the short story of a Hindi writer. A bench of Acting Chief Justice B D Ahmed and Justice S Mridul asked the petitioner-writer, Sushant Supriya, to raise his grievances before the single judge who is slated to hear it tomorrow.
"Since the single judge is to hear it tomorrow, we do not deem it proper to interfere at this stage. Appeal is dismissed," the bench said.
During the proceedings, senior advocate Pratibha Singh argued that the writer is only seeking that he be given credit as the movie is based on his short story. She said that as per trailers of the movie, scheduled to hit theatres across the country on April 11, several components of the short story 'Bhootnath' have been copied in the film.
Even the first Bhootnath film was a copy of The Canterville Ghost, a short story by Oscar Wilde, she said.
Supriya's Bhootnath was published in 2007 in Hindi magazine Aaj Kal and it is his claim that the movie Bhootnath Returns is based on his short story.
Senior advocate Jayant Bhushan, appearing on behalf of movie director N Tiwari and the producers, contended there is no similarity between the movie and the short story. He also said that since the movie and short story are different there is question of settling with the writer.
Bhushan made this submission in response to the court's query on whether both sides have arrived at a settlement as suggested by it on the last date of hearing.
Bhoothnath Returns, directed by Nitesh Tiwari, is a horror comedy film and is a sequel of 2008 flick Bhoothnath. The film is produced by Bhushan Kumar, Krishan Kumar, Ravi Chopra and co-produced by Ajay Kapoor. Besides Bachchan, Boman Irani and Shahrukh Khan are in supporting roles. The film also has a cameo appearance of Ranbir Kapoor.