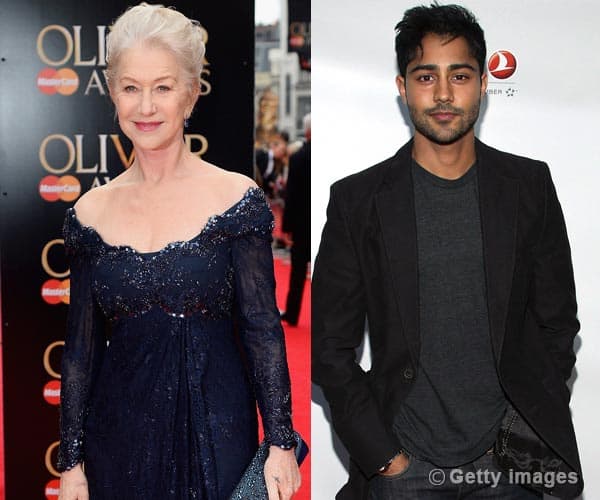 Oscar Award-winning Hollywood actor Helen Mirren will star in DreamWorks' latest film
India is clearly the flavour of the year in international cinema and Indian food is at the heart of Steven Spielberg's company DreamWorks' latest production. Oscar-winner Helen Mirren (The Queen) will be the lead in The Hundred-Foot Journey and Oscar nominee Lasse Hallstrom (Salmon Fishing in the Yemen) will direct. Indian origin American actor Manish Dayal (television's Switched at Birth) will star alongside Mirren.
The film is based on the bestselling book by Richard C Morais and the blurb goes: "The Hundred-foot Journey is the story of Hassan Haji, a boy from Mumbai who embarks, along with his boisterous family, on a picaresque journey first to London and then across Europe, before they ultimately open a restaurant opposite a famous chef, Madame Mallory, in the remote French village of Lumiere. A culinary war ensues, pitting Hassan's Mumbai-toughened father against the imperious Michelin-starred Cordon Bleu, until Madame Mallory realises that Hassan is a cook with natural talent far superior to her own."
Definitely sounds like a feast for the senses much like Amit Gupta's upcoming film Jadoo, starring Harish Patel, Kulwinder Ghir, Amara Karan and Madhur Jaffrey, that left audiences hungry at the end of sold out screenings at the Berlin Film Festivals.
Shooting will begin on The Hundred-Foot Journey in September in France and India and the film will release on August 8, 2014. DreamWorks owner Reliance will release in India.
In our humble opinion, there aren't enough Indian movies about food. Cheeni Kum and English Vinglish are two great examples of Bollywood creatively using food themes and the Malayalam film Salt N Pepper is another superb addition to the genre that is crying out for a Bollywood remake. The Indo-American movie Today's Special was another hunger inducing film and going back in time the evergreen Rajesh Khanna starrer Bawarchi. Amitabh Bachchan-starrers Do Aur Do Paanch and Satte Pe Satta had significant food scenes but weren't really food movies.
However, if you go further afield, there are several examples of great food movies including Ratatouille, Eat Drink Man Woman, Soul Kitchen, Big Night, The Chef of South Polar, Julie & Julia, Like Water For Chocolate, Babette's Feast, Woman On Top, Waitress, Simply Irresistible, No Reservations, Chocolat and many more.
Agnivarsha director Arjun Sajnanani who also runs a chain of restaurants in Bangalore was due to direct the official remake of Eat Drink Man Woman but there's no news on that.
What is your favourite food movie? Please leave your top choices in the comments section. And now, time for some food.
MUST SEE:
Steven Spielberg: We don't have great access to Indian films in America – Watch video!
Aamir Khan, Shahrukh Khan or Hrithik Roshan: Who will star in Steven Spielberg's movie?
Steven Spielberg says he was dying to make a Bond movie: Watch video