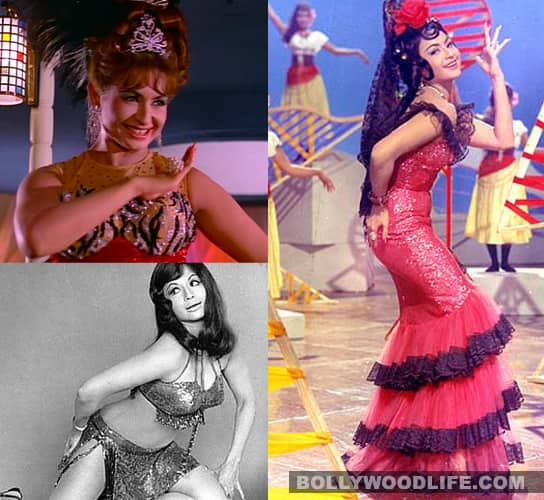 The sizzling dancing girl of the '60s and '70s, who turns 62 today, is an idol for many of our B-town's beauties who aspire to be item girls. Here's giving you Helen's five most iconic numbers
Mere naam chin chin choo- Howrah Bridge

Helen got a break in the Hindi film industry with this song from Howrah Bridge in 1958. She was 18 years old when she shot for this song. It went on to become a huge hit but very few could have predicted that she would go on to become India's dancing star!
Piya tu ab to aaja- Caravan

By the time she did this number in Caravan, Helen had been touted the cabaret specialist. A cabaret by her was the most wanted thing in a slick action flick in the early '70s. Add to that her styling- costume, hair and those long eyelashes- Helen had become a package.
O haseena zulfon wali- Teesri Manzil
She was probably one of the very few dancers who could match the energy and enthusiasm of someone like Shammi Kapoor. She sported a blonde wig in this song which was lapped up her fans and she went on to wear it in many of her later films. This song showcases her unique graceful dancing style, something that nobody could emulate.
Mungda main gud ki dali- Inkar
This film drowned at the BO but it will always be remembered for Helen's jhatkas and matkas. It was one of her very few rustic dances and it came just before she bowed out of the industry.
Yeh mera dil pyar ka diwana- Don
Helen was not only a great dancer but she also had this amazing seductive quality to her movements. She never looked vulgar even while doing the most provocative of steps. It's something that today's heroines are struggling to match. In this song, Helen tries to seduce Amitabh Bachchan and she did a fabulous job of it!