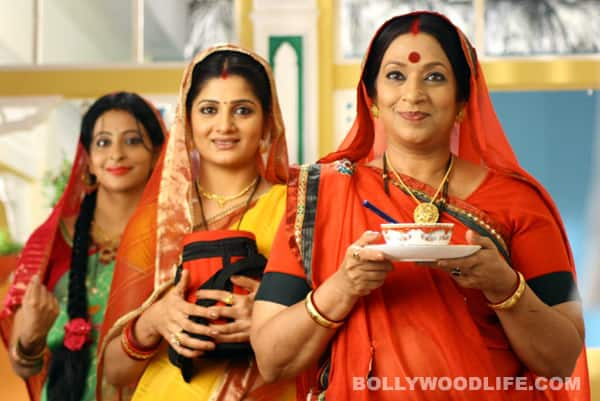 In a candid chat the tyrant saas reveals what made her leave her job as a professor of acting in New Delhi and step into the world of Indian television
Imarti Devi aka Hema Singh is on a mission. And it has nothing to do with making a bahu's life miserable, mind you. Hema is a professor at the National School of Drama, New Delhi. And she has taken a two-year break from a teacher's job to know more about the real television industry. "I go home and make notes. Every day," she says and adds, "This is a project for me. And I have taken two years off so that I can go back and train my students."
Hema's first performance was with Sudha Shivpuri, who was popularly known as Ba of Kyunki Saas Bhi Kabhi Bahu Thi, when she was just 11 years old. Hema has trained under Nadira Babbar and officially entered the world of acting when she got admission into the National School of Drama. And after she topped her class in college she freelanced as an actor for a while before applying at her alma mater to be a professor. "I applied to NSD for a professorship and got selected. I've been teaching for the past nine years," she said.
But Kairi wasn't a part of the original plan of Hema's life. "The auditions for this role were being held in Delhi. And at that time I was busy teaching students at NSD." But then came a twist. "The creative head of this show, Shashi Sumit used to be my student. And he felt that I can do the role. So he held a special audition for me. The channel loved it." Hema Singh, apparently, never expected this to happen.
In Kairi, Hema essays the role of Imarti Devi, who is the head of the family and a person known for her honey-dripping taunts. "When I first read about the role I realised it has shades to it. This lady is a meethi chhuri. Imarti is not an out and out negative character," she says, explaining her role. But while Hema had the intricacies of the character neatly laid out in front of her, preparing for it was a task. And for this, she sought inspiration in her near and dear ones. "My mother, mother-in-law, aunt and grandmother's body language inspired me. I chose a voice for Imarti Devi, a style. And gave it my touch."
But then that's what Hema has wanted to do since her childhood days. "I was a naughty kid. I loved to climb trees. But apart from that I used to gather all the children from my society and stage skits. I always wanted to be an actor." But while she was pretty sure about her profession, her restless nature kept her from blooming into the desired personality, or so she thinks. "I come for a very literary background. We are three siblings and my father is a great Hindi poet. My mom is also very well-read and has professionally learned music. My elder sister, Nandini Joshi is a television news reporter. When I was young every one kept wondering about what I will become," she says recalling those days of indecisiveness.
Today Hema Singh has successfully created a niche for herself. But quiz her if she plans to continue with acting or working as a professor and she says, "I don't know what the future holds for me."
ALSO READ: