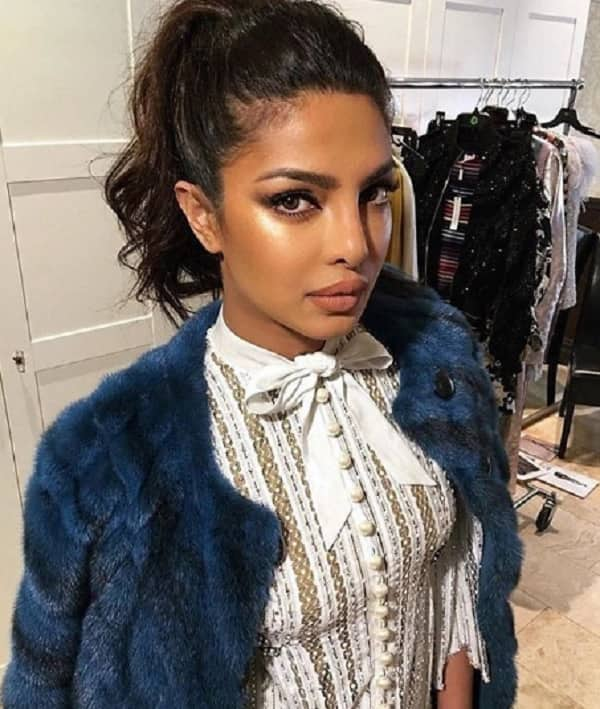 Priyanka Chopra's latest obsession is fur coats! After checking out some of her recent outings, we're convinced that she's head over heels in love with the fabric and is ensuring to make it a fashion trend soon! If you remember, when she arrived for a Michael Kors' show earlier, we noticed that along with a Prabal Gurung ensemble, she also donned a fur jacket. Not that it looked bad, it looked very classy. And guess what, she has donned a fur jacket yet again! Just some time ago, a closeup pic of the diva surfaced on social media as she got ready for New York fashion Week, wearing Marc Jacobs' outfit. The dress has been picked right off the Spring collection of the designer and boy is it cute! This is probably the third time that we're seeing her sport a fur jacket. The first time was somewhere last year when she tagged her silver dress with a red faux fur. It wasn't really a good choice of looks put together. However, recently, she has sported two looks with the fur jacket on and we gotta admit, it's looking fabulous!
So for NYFW, PeeCee chose a cute Marc Jacobs' outfit, as we mentioned above. We got our hands on the actual look of the dress and it's yum. We're dying to see what her full look is going to be like. We've attached the image below so you can check it out. You see, it's an extremely short dress with a very cute bow on the collar. If you notice, Chopra has tried a very similar look as what was presented by Jacobs' Spring collection. She tied her hair up in a ponytail. I really like her eye makeup. It looks quite interesting and gives her an edge. The nude-hued matte lip colour is also very charming. (ALSO READ – Watch Priyanka Chopra turn into a woman from a man on The Late Show with Stephen Colbert)
While we wait for a full length pic, here is Priyanka Chopra (@priyankachopra) looking as striking as ever in @marcjacobs. #NYFW pic.twitter.com/YGSAXTewIf

— Rashmi Nayak (@rashnayak) February 16, 2017
PeeCee wearing Prabal Gurung ensemble –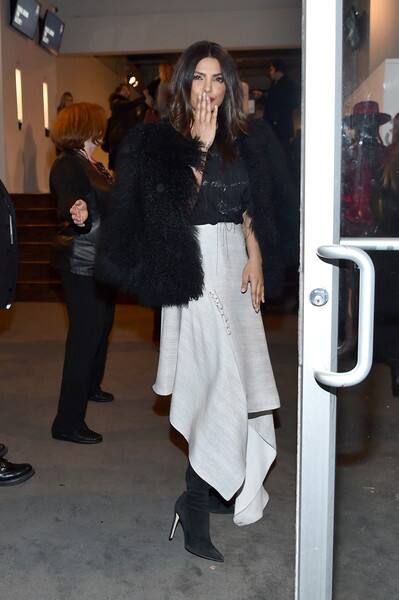 The previous day when Priyanka made an appearance in a Prabal Gurung creation, she rubbed shoulders with Diane Kruger, Sarah Jessica Parker and much more! Wow, she definitely knows whom to socialise with. We've noticed that every time PeeCee attends Hollywood events, she makes sure that she looks like a bomb, socialises with the biggies and gets a lot of snaps with celebs. Having seen a glimpse of what her look is going to be for New York Fashion Week, we can't help but wait till she showcases her full look. Damn, PC can make your hearts ache in anticipation. Anyway, all you gotta do is rest your hearts and we'll come back with pics from NYFW!