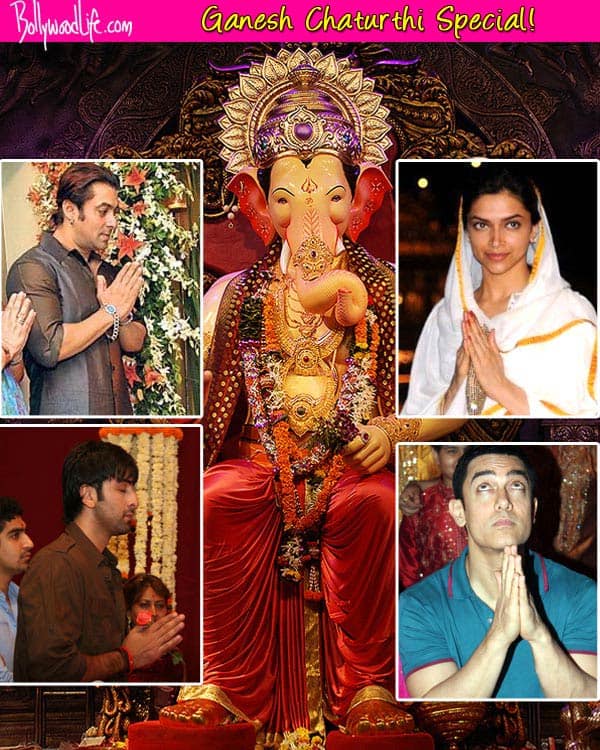 While all these celebs are doing exceptionally well personally and professionally, we still think they can ask Lord Ganesha for something special. Read on to know what…
Salman Khan: The Being Human actor recently delivered a blockbuster in the form of Kick which not broke box office records but re-wrote new records. So what could Bhai possibly ask for? Since Bigg Boss 8 is around the corner Salman should pray for its success. Yes, we know its already a popular show but then it has always been surrounded by controversies too. So just to be on the safer side, why not pray?
Shah Rukh Khan: So far King Khan has had no release but his much-awaited film Happy New Year is slated to release during Diwali this year. We are pretty sure you'll have seen the trailer and its quite obvious that director Farah Khan and SRK have made this one on a grand scale. Apart from impressing the audience, they sure want to get cash registers jingling as well. After all, filmmaking is a business at the end of the day, hai na? Well, that's what Shah Rukh should ask Lord Ganesha to bless him with. And maybe he can pray in advance for his IPL team too … Wink wink!
Deepika Padukone: This talented actress delivered four back-to-back hits last year and ruled the box office. Though this year she has only two releases – Finding Fanny and Happy New Year, DP would still love to be the reigning queen of Bollywood, hai na? So there is no guessing for what Ms Padukone should ask!
Ranbir Kapoor: Jr Kapoor has no releases this year but he sure needs blessings for his personal life. Off late, things have been smooth between him and Katrina Kaif but we all know relationships aren't easy to maintain and especially when you're celeb. Guess RK should ask Lord Ganesha to keep him and Kat away from all the fighting, media's prying eyes and of course from those who may try to create dent on their rishta.
Aamir Khan: While Mr Perfectionist has always stayed away from controversies, he recently grabbed headlines when the nude poster of his upcoming film PK was released. Since Rajkumar Hirani's directorial venture is touted as one of the biggest films of this year, it would be best if PK doesn't court any more controversies, right? Also, the new season of AK's show Sataymev Jayate is starting from next month. So Aamir could pray for both – his much-awaited film and his most-loved TV show.