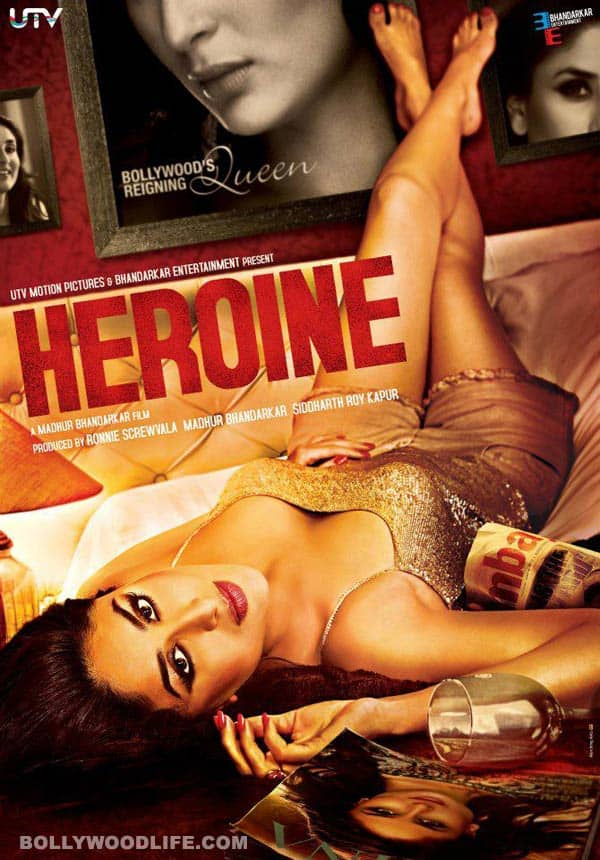 Madhur Bhandarkar's forthcoming release Heroine portrays the Kapoor gal in a never-seen-before avatar
We were curious to see Kareena Kapoor in Madhur Bhandarkar's much talked about venture Heroine. The film was supposed to have Aishwarya Rai Bachchan in the lead role, but given Ash's pregnancy the Kapoor babe bagged the part – she maintains that it was her film all along, but that is a whole different story. And now, going by the poster, we can say with a certain degree of conviction that Bebo has grabbed a meaty role indeed! Well, somebody's loss, they say, is somebody else's gain!
Here's the first official poster of Bhandarkar's magnum opus. The image shows Kareena in a glitzy tank top and shimmery shorts displaying her gleaming legs. Lying on a bed, Bebo comes across as a brat, a spoiled and self-indulgent diva. There's an air of arrogance and dominance about this picture as Kareena lets her hair down and looks straight into the camera lens.
The golden tinge of the picture, Kareena's shimmery outfit and the lighting used make this frame amazingly opulent to look at. The classic photo frames hanging on the wall, the famous publications with Kareena in the headlined stories scattered over the bed and the tilted wine glass speak a thousand words about the world of unparalleled fame and absolute hedonism. We sure like! The film is slated for a September release.