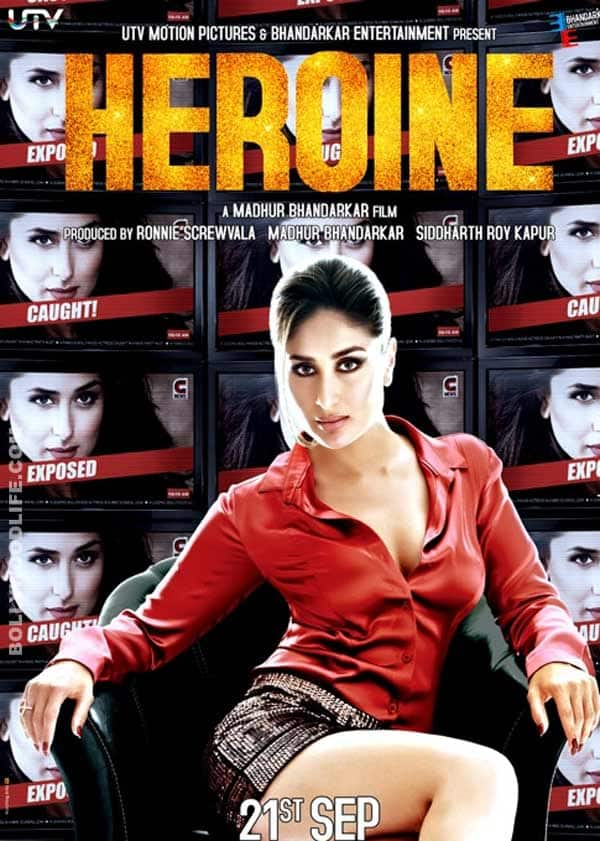 Kareena is the only saving grace of this cliched and clumsy Madhur Bhandarkar film
Heroine tells the story of Mahi Arora (Kareena Kapoor) – the reigning queen of Bollywood. Mahi is in love with the star Aryan Khanna (Arjun Rampal), who is married, but separated from his wife. Mahi wants commitment but Aryan is not ready. Mahi becomes needier as he refuses to acknowledge their relationship in public. Finally, she ends up miffing a star wife at a party and being dumped by Aryan. Mahi loses her standing in the film industry and gets completely distraught. But she soon picks herself up, hires a new PR, finds a new boyfriend (Randeep Hooda) and tries to rebuild her career and life. But suffering from bipolar disorder doesn't make things easier for her. She continues to struggle to find her way through the manipulative and dirty world of Bollywood (as is made just way too obvious by the director). The final nail in the coffin comes when she becomes desperate and uses a cheap publicity stunt to make her movie a hit.
On the face of it, Heroine had great scope to be developed into an interesting story. But director Madhur Bhandarkar gets confused – he wants to reveal the big bad world of Bollywood to the outsiders and tell a human story at the same time. There are lose references to real controversies – a star who edits his co-actor's role, female actors partnering with a businessman to buy an IPL team when their careers are going downhill, a leaked MMS which brings ample publicity to a couple, a gay designer who is known to design saris and is a close friend to some top female actors, a star wife who decides which heroines his star husband will work with after a recent linkup and so on. The director entertains you by giving you a guessing game. You get busy trying to find out whether a character is based on a certain star or not. But that's where the fun ends.
Bhandarkar makes sure he incorporates all the clichés – some that he has already used in his previous movies – a gay friend, a bisexual director sleeping in return for a favour, MMS scandal, heroines dating cricketers, struggling female actors sleeping around with big stars to rise in their career, philandering male stars and their manipulative star wives. Now that is the image of Bollywood in the eyes of the common man anyway! Bhandarkar simply affirms the stereotypes instead of adding a new dimension or depth to these impressions. Cutting the paraphernalia and sticking to Mahi's story would have done the film a whole lot of good.
The saddest part is that everything comes across as just too wannabe. Characters forcefully use words like babes, dude, bro, bbm etc. Bhandarkar plants a so-called bold element by showing a sexual encounter between Kareena and her female costar (Shahana Goswami). Sensational, yes…aesthetically acted out, yes…but is it important? Well, it could have made for a great plot line, but it ends up being totally irrelevant to the story.
There are some good performances that give you a glimmer of hope. Arjun Rampal as the confused star and Randeep Hooda as the loving and caring cricketer give mature performances. Divya Dutta as Kareena's PR person is decent too.
Almost all the characters though are seen puffing a cigarette and gulping down alcohol giving the impression that every person in the media – journalist, actor and PR – smokes and drinks all the time!
My heart goes out to Kareena Kapoor, who carries the film on her solitary shoulders. She looks ethereal and makes the most of whatever has been offered to her in terms of her character. She brings depth to the role of a moody and emotionally unstable fading star. Some scenes are over the top and that affects her performance too. But Kareena especially shines in some scenes – when she is completely down and out and just nods in agreement to her manager, when she comes face to face with her ex-boyfriend and when she watches the TV to find out whether her publicity stunt has worked. But a clichéd script, some clumsy dialogues (by Niranjan Iyengar) and naive direction let her down.
The story begins when she is at the top of her career and follows her downfall. But since you don't get to see her rise or her struggle to the top, you don't have a reference point. You don't feel for the downfall of the character because Madhur makes it clear right in the beginning that she is mentally unstable – that she follows her heart because her mind doesn't work. How do you sympathise or empathise with Kareena's character when it is so weak? Instead one ends up feeling bad for Kareena – the actor.
The biggest weakness of the film is that there is no structure. Where is the beginning, the middle and the end? The flaw is with the basics. A high point is followed by a very predictable and dreary development – a bummer. A rather boring and flat first half gives way to slightly more promising second half. But as the story unfolds you are just going through the motions, mainly because of a confused plot.
The film has no similarities to The Dirty Picture (except that both show the downfall of a star) because TDP claimed to be an out and out entertainer and it was. Heroine tries to be an expose on the film industry and pretends to be bold, but it is amateur and stereotypical. It fails at the research level, script level and in the development of the plot and characters. It becomes bearable only because of Kareena. I give her five stars, but the movie doesn't deserve them.
Rating: * *
* Poor – Avoid!
** Average – Give it a shot if you are desperate!
*** Good – One time watch!
**** Very good – Must watch!
***** Excellent – Don't miss!
ALSO READ: