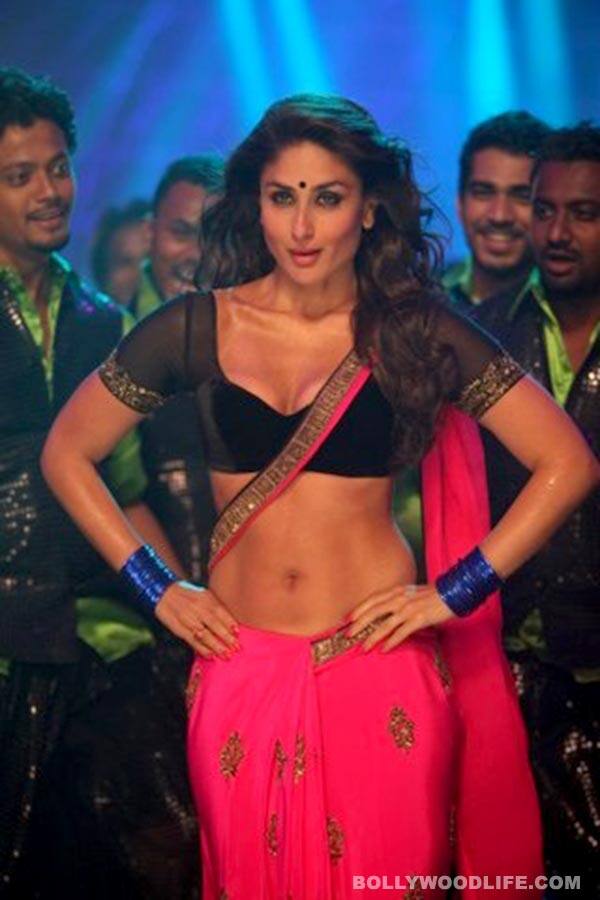 Music: Salim-Sulaiman
Lyrics: Niranjan Iyengar
Singers: Sunidhi Chauhan, Rahat Fateh Ali Khan, Aditi Singh Sharma, Benny Dayal, Shreya Ghosal
Rating: *1/2
Salim Sulaiman are still being talked about for their Band Baajaa Baaraat music and their last project with Madhur Bhandarkar, Fashion was also quite popular on the dance floor. So it's natural to expect good quality entertainment from the soundtrack of Heroine starring Kareena Kapoor. But get ready to be let down.
I started with the title song: 'Main heroine hoon', and the first thing that came to mind was 'Yeh kaisa naam hai?' And as I continued to listen, lines like "Gossip mein scandal hain, har dil mein basti hoon, main heroine hoon" fell painfully on my ears. Come on? Stop dumbing down!
This track totally belongs to the 'tacky songs list' from the '80s, mainly because of its lyrics. Agreed that the song is trying to speak about the life of a female star in Bollywood (the main theme of the film), but why be so obvious? Some imagination on the part of director Madhur and lyricist Niranjan Iyengar could have helped. And it is exactly on the lines of Fashion ka hai yeh jalwa. Aditi Singh Sharma is decent, but she can't save this song from being mediocre.
Tujhpe fida is a love song that sounds more like a remix version – with the fast pace and electronic loops. Sung by Benny Dayal and Shraddha Pandit, it's a groovy number, but again lyrics like Hum nazar zakhmi hoke, tilmilate reh gaye, tum yeh ghav karke muskurate reh gaye are not appealing. It's an interesting track, but fails to hook you.
Rahat Fateh Ali Khan's Saaiyan is a semi-classical number. It's a nice composition and Rahat is in his comfort zone. But a different singer would have brought some freshness to this composition. It's not to say that Rahat doesn't do a good job, but he has sung many similar tracks in the recent past. Guess it is time for composers to allow the singer to experiment with his voice and explore newer territory. The classical use of violin helps evoke the intended pain. This is one of the better songs on the album.
Then comes Shreya Ghosal's Khwaishein. It's refreshing to hear her sing a soft rock kind of number. Lines like Bhatkake laye kinaron pe kis kaam ki aisi kashti and Muh pher ke chidhati hain khwaishein are decent. But somehow the tune and the words don't sound in sync. Another promising song fails to rise above mediocrity probably because of lack of chemistry between the composers and the lyricist.
Next up is Halkat jawaani. After listening through it once you know that it's just another item song. It's definitely as hot as it was made out to be! It doesn't hook you or make you get up and dance – something that an item number should do. The lyrics too don't have punch. Lines like Chhoron ki niyat halaal kare, masti mein daily bawaal karein sound very been-there-heard-that and singer Sunidhi Chauhan seems to be going through the motions rather than really feeling it, which is rare. The harmonium-tabla interlude is good, but there's nothing that stands out. Wonder why it was so hyped by the makers in the first place!
One of Salim-Sulaiman's weakest works yet, Heroine fails to impress. I even wondered if they were too busy during the making of this album and resorted to stock songs from their playlists. Niranjan did some quality writing for My Name Is Khan, and I can't believe it's the same lyricist who has penned this soundtrack! The writing is tacky in places and just plain blah in others. It feels like the music of Heroine was made to some kind of "Yeah public ko pasand ayega" brief. But alas! Too much fluff, no substance. Not fun!