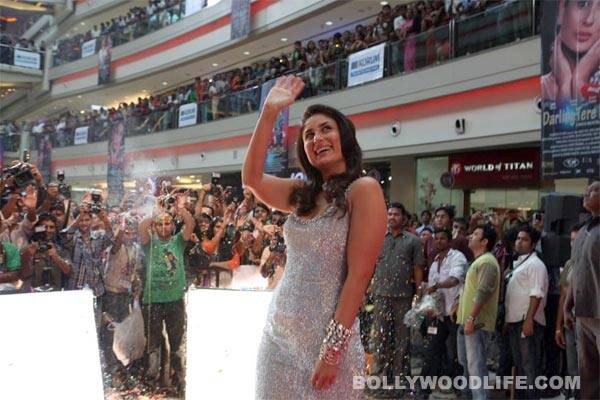 However, this one haunts you with a hangover of the director's previous film (Fashion) and Milan Luthria's blockbuster The Dirty Picture
The trailer of the most eagerly awaited film in recent times – Heroine, starring reigning queen Kareena Kapoor, Arjun Rampal, Randeep Hooda, Divya Dutta and Mugdha Godse – is finally out. The title of the Madhur Bhandarkar-UTV Motion Pictures production is self-explanatory – it brings alive the ups and downs of an actress in Bollywood on the big screen.
The 3.11 minutes promo opens with clichéd dialogues. And everything from there on seems hackneyed in the dramatic saga.
Further, from what we can see, Heroine looks like a hodgepodge of the director's previous outing Fashion and the very recent Milan Luthria-directed blockbuster The Dirty Picture. And that's the reason we are a little let down by the promo. Couldn't Bhandarkar for once leave his clichéd formula aside and think out of the usual box?
The good thing, however, is that Kareena is not only looking delicious with those luscious curves, but also looks in top form for the game that is acting. Heroine's promo gives glimpses of that sizzling song Halkat Jawani, some hot intimate moments and lots of dialoguebaazi.
Meanwhile, the film's already started receiving it's share of brickbats. An NGO wrote a letter to the Ministry of Information and Broadcasting complaining against the makers of Heroine for indirectly promoting smoking and alcoholism. Kareena's character is shown to openly smoke and consume alcohol in the film.
But will all this be enough to lure audiences to the theatres? We think the only reason the janata will shell out big bucks to see the film is Bebo's power-packed performance. However, that's our opinion. Take a look and give us your views on Heroine.