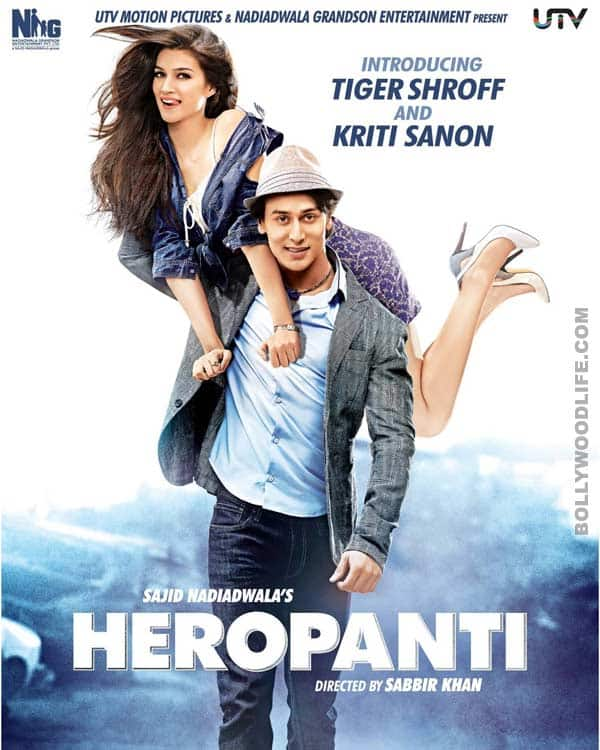 Sajid Nadiadwala's production venture starring Jackie Shroff's ladla beta has hit the screens and though Jr Shroff has a long way to go in Bollywood, he sure has the potential to become the next ultimate action hero
Whenever a star kid makes a debut, the pressure is always double and expectations sky high. More so when your father is Jackie Shroff whose rustic charm never failed to captivate the audiences in the '80s. But Tiger Shroff is nothing like his father even when it comes to looks. The young lad is not a conventional looking Hindi film hero nor is he a chocolate boy whose puppy eyes would melt your hearts. In fact, you can't really bracket him into any category coz he is unlike any other actor who has entered Bollywood in the recent times. Well, that may or may not appeal to the masses but here's what I think: The Heropanti actor has a fabulous body and he knows how to use it well onscreen. Surprisingly, he's a good dancer too. But running around trees and doing cheesy Bollywood steps doesn't suit him at all. But the big question is – has Jackie dada's son packed a punch with his debut film Heropanti which is directed by Sabbir Khan and co-stars newbie Kriti Sanon and Prakash Raj in the lead roles? Let's find out…
Heropanti has nothing new to offer as far as story is concerned. Prakash Raj is a doting father but at the same time very orthodox in his thinking. He loves his two daughters but they don't have the right to make any decisions for their lives. After his elder daughter Renu (Sandeepa Dhar) elopes with her lover on the night of her wedding, Chaudhary (Prakash Raj) feels insulted and starts a search mission for her. Well, they belong to the Jat community where love is forbidden and love marriage a social suicide. Bablu (Tiger Shroff) enters the picture. He knows where Renu and her lover are hiding and is therefore taken into custody by Chaudhary's goons. But Bablu is not just good at bashing people; he is also a street smart. He keeps misguiding Chaudhary and his men about Renu's whereabouts and in-between all the car chasing and fighting, Bablu falls for Dimpy (Kriti Sanon). The only problem – she is Chaudhary's younger daughter. So done-to-death twist, hai na? What happens next? Will Bablu's love story have a happily ever after ending? Well, you have to watch the movie for that. But we are pretty sure it isn't hard to figure out.
What's good about Heropanti?
Tiger Shroff may have grabbed attention coz of his not-so-conventional looks but I think that's what works in his favour. Apart from that, action sequences and music of Heropanti is absolute paisa vasool especially the iconic Hero tune that you get to hear in the background. It's a bit repetitive but who cares – it's a classic. Tiger's co-star Kriti is the surprise package. The leggy lass is no doubt stunning but she is equally good with the acting. Yes, it's not a meaty role but the babe won't go unnoticed in this film which is all about the hero and his heropanti. Prakash Raj has played a baddie umpteen times in his career but in this one his role isn't out-an-out a grey one which is such a relief.
What's bad about Heropanti?
It has to be the story more than anything else. There is no surprise element whatsoever and the plot is in fact quite predictable till the end. But that's still okay. What's really annoying is the overdose of melodrama in the second half. Director Sabbir Khan has failed to cash in on Tiger's USP which is action and not romance. Yes, Jackie's son is good at bashing up people, jumping from building to building and even at dancing but he sure doesn't fit into the romantic hero image. Also, he isn't consistent with his dialogue delivery. At times he is good but then there are times when you doubt if he is the hero of the film.
Verdict
Overall, Heropanti is like any other massy entertainer. If you have no plans this weekend, then you can watch this one with your family. But don't expect much and you'll be pleased.
Rating:
out of 5
Reviewed by Namrata Thakker
* Poor
** Average
*** Good
**** Very good
***** Excellent