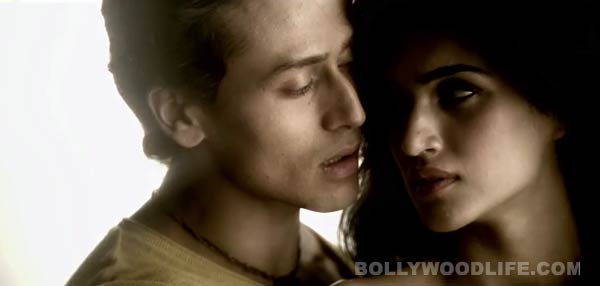 Tiger Shroff' debut film has hit the theatres today. Is the film worth watching? Read on to find out!

What it's about?
The story takes you back to the early nineties. Except that the backdrop is now the north. Boy Babloo (Tiger Shroff) falls in love with the girl at first sight. She turns out to be daughter of a goon, who has captured him to get the address of the boy who has eloped with his older daughter. Soon, she too begins to have feelings for him. Father senses. Which way would the story go ahead now? It goes the same route as DDLJ or Maine Pyar Kiya.
What's good? 
You go into the theatre expecting nothing from Tiger Shroff. The promos didn't do him justice. But he has great screen presence and a certain awkwardness which makes him real and very endearing. He holds his own in emotional scenes with Prakash Raj. Dances like a dream (though he has to lose his ballet moments) and fights like he was born for it. A brilliant debut. Kirti Sanon is sensational. Fresh moments in the film are only because of Tiger and her.
What's not:
Sadly the film doesn't do justice to both the newcomers. Nothing unique about the screenplay. Ordinary direction. It's a long time since this kind of lover story has been seen on the screen. Just when you thought that the formula had been forgotten Heropanti tries to revives it. Tiger shows huge potential in action and dance but director fails to exploit it fully. What was the costume designer thinking while dressing the leading lady?
What to do:
Watch it for the newcomers.
Rating:
out of 5
Reviewed by Sarita A Tanwar, DNA
* Poor
** Average
*** Good
**** Very good
***** Excellent