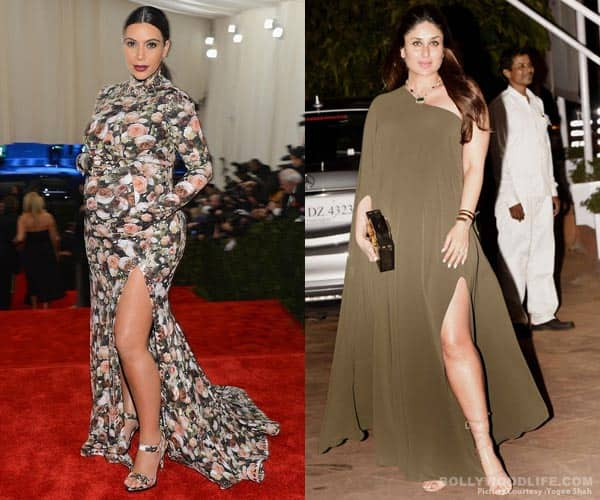 Kareena Kapoor Khan is inching close to her due date. If reports are to be believed and if our math is right then she'll probably give birth anytime around first or second week of December. And as we speak of her pregnancy, Bebo stated something interesting at a few interviews. There's a lot of stuff that is on cards for the actress including going back to size zero! In an interview, Kareena stated how she would love to go back to her size zero days post pregnancy. Her quote said, "I'm a little less nervous about the rest of my pregnancy as I am about getting back into shape. After all, I have the size zero tag to live up to." So you see, she does plan to break down to a fitness regime as soon as her baby is born. And guess what, we just got one for her, courtesy Kim Kardashian!
The reality TV star, who gave birth to her second baby, Saint West, shed around 60 pounds! Shocking, isn't it? Kim was hell bent on losing weight and going back to her 2010 physique (which she did!). KimK basically gave herself three months to lose all the extra pounds she gained as she was to be featured on GQ magazine. To everyone's shock, she lived up to her word and lost a lot of weight. Remember the naked photoshoot she did for the magazine this year? If not, you can check it out here. This proves that her fitness regime and workouts were very helpful. We thought, hey Kareena, perhaps this could be your way to shedding those extra pounds and going back to size zero! Scroll below and check out how Kim startled the world with her weight loss story.
Rationale measures to be taken by nutritionist
With Kim's aggressive pursuit, her nutritionist Colette Heimowitz, planned a strict but smart diet for her. Heimowitz explains how it is essential for her to produce enough breast milk so as not to compromise with that. "I wanted her to be prepared for a slow, steady weight loss rather than a dramatic, fast weight loss," states the nutritionist. "Everyone wants to lose fast, right away. I gave her a nutritionist's rationale why slow and steady is better in her predicament." Bebo too should hire a dietician and nutritionist to plan out a healthy diet for her.
Balance of healthy food on plate
Having a responsibility of a newborn, Kim has to have a diet which comprises of several nutrients, proteins and high fiber carbohydrates. According to Heimowitz, Kardashian's day started with a breakfast of two eggs with cheese and spinach, a snack of Greek yogurt with blueberries and slivered almonds. For lunch, the menu would consist, a salad with creamy dressing, another snack of hummus and vegetables. Dinner had an altogether lesser amount of food with that of chicken breast, broccoli, and salad. Wow. "The key to success is the carbohydrates are low enough that the body burns fat for fuel," Heimowitz said. "You're eating five, six times a day, so you're not hungry. You're satisfied, you're satiated, and you're less tempted to cheat."
Keep oneself highly motivated at all times
The key to any pursuit is to make sure the motivation level is always high. A similar thing that even the 36 year old reality TV star followed during her relentless strife. A celebrity basically has the entire world, waiting to see them post pregnancy. So obviously a certain pressure is there. But the key to deal with it is simple, motivate yourself with whatever puts a smile on your face. For Kim, it was Snapchatting her workouts. Perhaps, Bebo can also do the same. Not Snapchat of course (She doesn't like social media much) but whatever makes her go!
Hit the gym on a daily basis
Okay, that was a little obvious. Kim did it and so might Kareena. The first thing, in fact, that celebs usually do to tone down into their desired body is by hitting the gym. Kardashian constantly kept her social media filled with workout videos. Evidently, it helped her. Gym is probably one of the most necessary things to do post pregnancy but again, one needs to be careful of the kind of workout regimes to be picked as it shouldn't have repercussions.
Cut down on intake of sweets
At the end of the day, it's all about what you eat. The food intake and the kind of food needs to be curbed to lose weight. That majorly includes sweets as well. While we all have that sweet tooth that needs some satiation but it'll have to suffer just a bit. KimK too, put a stop to her sweets habit as she didn't let craving for sweets get the better of her. She was resilient and did not give in to her temptations. Another thing Bebo will have to follow to go back to her famous size zero!
Sigh. Kim Kardashian definitely let her body go through a lot to gain her usual form. Kareena, having stated how she will start working a month post the birth of her first child, might have to go through a very stringent diet. Not just diet but a strict fitness regime and as you can see, there's a lot of stuff to do in order to reduce weight. For her to achieve the size zero or even close to that target, the actress will have to go through a lot of strenuous workouts. We just hope that she is able to break KimK's record of three months and lose weight before that! What do you say, BollywoodLifers?
Tell us your thoughts in the comments box below and stay tuned to this space for more stuff and hot scoop.
Kareena Kapoor Khan says can't express how she feels about it

"This is such an internalised emotion that I can't put it in words. I can't express how I am feeling right now. Or what I'm going to feel. I think these are things that I have to experience myself before I talk about them. But, of course, the journey has been great."

Image credit: Facebook

When Kareena Kapoor Khan was brutally honest take on motherhood

"I am very excited. I am not nervous at all (smiles). This is something that every woman looks forward to in her life. It will be a life-altering experience for my family and friends."

Image credit: Facebook

Kareena Kapoor Khan and Saif Ali Khan's kids not gonna be honed by bodyguards!

"We don't have bodyguards and we don't believe in having them either" the Veere Di Wedding actress further added. She hopes that their family will continue the tradition. "I am not going to hire 10 bodyguards just because my child will belong to a star family"

Image credit: Facebook

When Kareena Kapoor Khan embraced pregnancy with arms wide open

"Wanting to become a mother was a natural course for me. I don't know why there's such a hue and cry about my pregnancy in the industry. It is the most natural phenomenon for all women."

Image credit: Facebook

Kareena Kapoor Khan on her kids fashion picks

"I think he (Manish Malhotra) should just stick to designing clothes for me for now," she said laughing it off. Quiz her about having a designer wardrobe for her baby and she quips, "I haven't even thought of that. I would prefer a designer wardrobe for me first before anyone."

Image credit: Facebook

When Kareena Kapoor Khan addressed the normalcy of pregnancy

"The most important thing is that pregnancy should not be looked upon as some sort of disease of any kind. It's the most beautiful phenomenon that can happen to a woman… I would continue to do as normal things as everybody else because that's what it is."

Image credit: Facebook

And Kareena Kapoor Khan convinced us about the normalcy of pregnancy

"It's most natural phenomenon and there is nothing wrong with it. In fact it's a joy,"

Image credit: Facebook

Kareena Kapoor Khan on Lakme Fashion Week's ramp, baby bump's debut walk

For me, it is quite an emotional moment as this was the first time we (she and her future child) took the ramp together. It was a moment to cherish,"

Image credit: Facebook

Kareena Kapoor Khan hopes her baby doesn't get this quality from daddy Saif

"He can be like Kumbhkaran. He can just sleep for 18 hours a day and not wake up," Kareena revealed about Saif's "disturbing" habit. About herself, she said that she worries about the minutest things. Bebo said that she wants a "chilled out" baby, like hubby Saif.

Image credit: Facebook

But Kareena Kapoor Khan also hopes her baby doesn't get this from herself!

I don't have any bad quality ya. But I think I'm a worrier. I hope my kid doesn't get this quality.

Image credit: Facebook