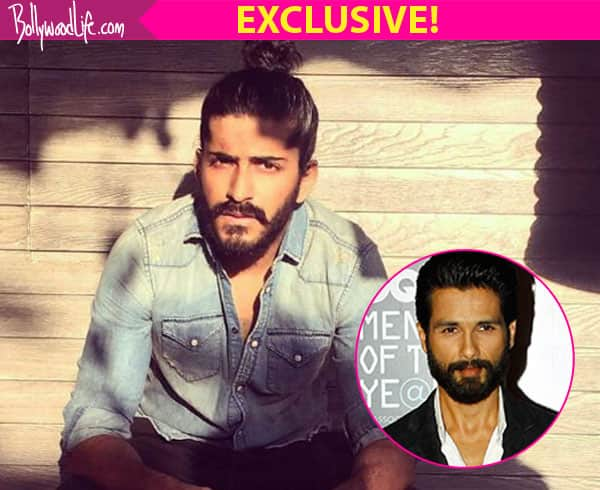 Sonam Kapoor's Neerja, Akshay Kuamr's Airlift, Fawad Khan's Kapoor & Sons and Shahid Kapoor's Udta Punjab have been among the best films of 2016 so far. Udta Punjab embroiled itself in a huge controversy and won the fight against Pahlaj Nihalani. The film, which is based on increasing drug abuse in the state of Punjab, won critical acclaim and fans loved the movie and the performances too. The audience went beserk over Shahid Kapoor and Alia Bhatt's terrific performance. There is no denying that he did a commendable job in the movie. Right from his appearance to his diction to his acting prowess, everything about Shahid in Udta Punjab just made us fall in love with him even more. Udta Punjab is one of the best films we have ever had and it is Shahid's best performance till date. But there is someone from Bollywood who's yet to get over Shahid's performance. The newbie actor is going to be making his star debut soon and has already made us go gaga over him with his good looks and charm. Yes, we are talking about Sonam Kapoor's younger brother Harshvardhan Kapoor!
Had he been given a choice to play one of the roles in any of the 2016 movies he would have definitely opted for Shahid's role in Udta Punjab. In an exclusive interview with BollywoodLife, we asked the Kapoor lad to choose between Fawad in Kapoor & Sons and Shahid in Udta Punjab and he was quick enough to say, "I would like to play Shahid Kapoor in Udta Punjab. I think either Fawad in Kapoor and sons and Shahid in Udta, but I think Shahid in Udta."
"But I don't think I could have done it better than him. He was outstanding. Please put that in my interview, Shahid is outstanding in Udta Punjab," he further added. (ALSO READ: Ladies! Mirzya actor Harshvardhan Kapoor is SINGLE!)
Woah! He seems to be completely smitten by Sasha's performance in the movie. And why not? Shahid was simply phenomenal in Udta Punjab. He has only raised the bar higher for other actors with such an exemplary performance.
Bollywood debuts are a big deal and if it is someone from the Kapoor khandaan, it is a very big deal! Harshvardhan has already impressed us with his good looks.. But will his performance in Mirzya be equally appreciated? We will have to wait and watch! Directed by Rakeysh Omprakash Mehra, Mirzya also marks the Bollywood debut of Saiyami Kher. The film will release this year on October 7. (ALSO READ: Harshvardhan Kapoor's Mirzya is nothing like Magadheera, confirms director Rakeysh Omprakash Mehra)
Harshvardhan Kapoor turned into a sexy man

Anil Kapoor's son Harshvardhan Kapoor has now joined the league of sexy Bollywood men.

Harshvardhan Kapoor looks great in this appealing look

Harshvardhan Kapoor already has a massive fan following because of his appealing looks!!!

Harshvardhan Kapoor already holds a great fashion sense

Harshvardhan Kapoor can carry all looks in a best way, whichever you say.

Harshvardhan Kapoor's look for a photoshoot

No doubt, Harshvardhan Kapoor has a heck of stardom.

Harshvardhan Kapoor in a superhot pose

Anil Kapoor's son Harshvardhan Kapoor is already a heart-throb of many girls.

A still of Harshvardhan Kapoor from upcoming movie 'Mirziya

Harshvardhan Kapoor's first look from Rakeysh Omprakash Mehra's upcoming film 'Mirziya'