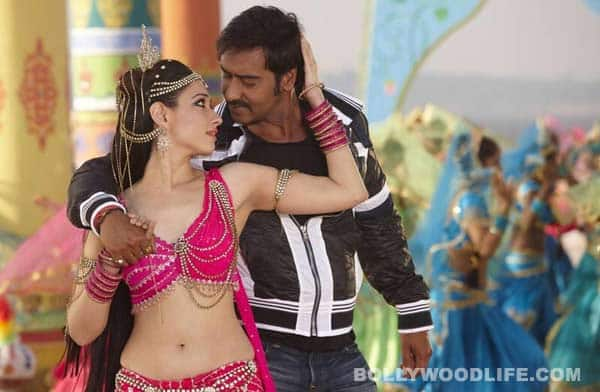 Going by the weekend collections of Rs 31 crores, Sajid Khan's big budget 'entertainer' might prove to be a damp squib at the BO
Sajid Khan will certainly curse himself for making bravo statements like, 'My name is Sajid Khan and I can never make a flop film.' If the filmmaker is himmatwala enough to see his latest movie's box office collections, we are sure he'll think ten times before making any such claims henceforth. Considering Sajid's super hit track record with Heyy Babyy and the Housefull franchise, expectations from Himmatwala were sky-high. But all predictions and calculations have failed as the film has under-performed at the box office in its opening weekend.
In spite of the pre-release buzz, immense hype, presence of Ajay Devgn, the movie being the solo release this Friday and the large number of prints, Himmatwala hasn't gained the kind of numbers that was predicted.
"Himmatwala has opened to drastically contrasting responses. While it faced outright rejection at the multiplexes, the single screens have played a major role in giving Ajay Devgn one of his best opening weekends ever. The thrashing from critics (almost unanimously) has played a significant role in influencing the decision of the urban and multiplex-going audience to not watch the film, while the mass audience that probably doesn't access the reviews is flocking at the cinemas and having a good time. The film made Rs 12 crores on Friday and the collections drastically dropped on Saturday – Rs 8.91 crores," informed leading exhibitor and distributor Akshaye Rathi.
Taran Adarsh tweeted, "The film falls in several circuits on Day 2 (Saturday). At several centres, the decline is substantial. Fared well in mass-dominated belt (single screens) on Friday, but the negative word of mouth hit the business hard as BO numbers came sliding down on Saturday. Sunday, however, was slightly better than Saturday, but lower than Friday, which says it all. The business at plexes remained dull all through the weekend. In view of the fact that UTV has given the film a wide release, the weekend numbers are shockingly low. Collected approximately Rs 31.1 crores nett in its opening weekend. Breakup: Friday Rs 12.1 crores, Saturday 8.5 crores, Sunday Rs 10.5 crores."
Sajid was quite confident that Himmatwala will make Rs 200 crores at the box office, but going by the collections, we wonder if the movie will be able to cross Rs 100 crores! Watch this space for more updates.