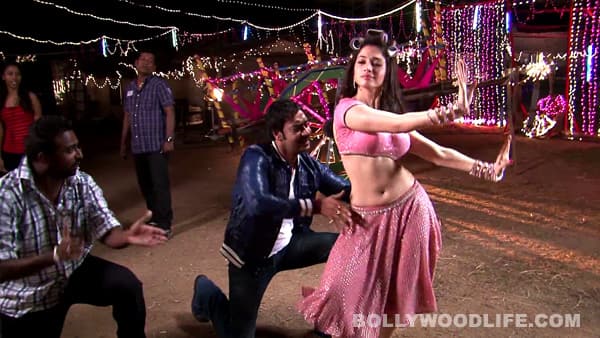 The cast and crew are seen having a gala time shooting a peppy number and some emotional scenes in true Sajid Khan style!
Its day 21-24 in the making of Himmatwala series. On the first day, we see Ajay Devgn and Tamannaah rehearsing a fun number – Dhoka dhoka de gaya re (sounds similar to Aa re pritam pyare from Rowdy Rathore). Ganesh Acharya is seen choreographing the track. Sajid Khan, who's helping Ajay get his dance steps right says, "It's not like Ajay cannot dance. He just has a phobia thinking that his image will go for a toss if he does that. But see he dances really well," and the camera captures Ajay doing some really cute moves! Ganesh makes sure that Ajay dances to better steps than his other songs. And the trio – Sajid, Ajay and Tamannaah are seen having loads of masti.
Cut to day 22 – Sajid says it's the last day of the song, and you see Ajay doing some Amitabh Bachchan signature steps, as the unit members and onlookers present whistle, clap and cheer for their favourite actor. Day 23 – Sajid enacts a scene in front of Paresh Rawal and Ajay and mouths the dialogue – Yeh haath hai ki hathoda hai, keedo ki basti mein kaun sa aa gaya makoda and makes fun of Ajay. As the shooting day comes to an end, Sajid informs, "Tamannaah has told Ajay and me that heroines in the South don't gossip and when she was telling us how nice they are and there's love and prosperity amongst heroines, her nose grew three inches longer." Day 24 – An emotional scene is being picturised on Adhyayan Suman and Tamannaah. From what we see, Sajid is a thorough entertainer on and off the sets. Watch the makers and the actors of Himmatwala shooting for the high-on-energy song and scenes and tell us what you think of it!