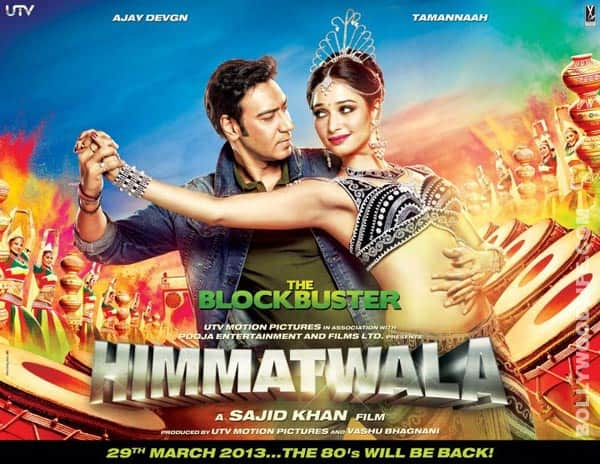 Sajid Khan's Himmatwala has been riding on good hype, massive promotions and the fact that it's a 'rewrite' of the 1983 hit film. But we wonder if the film, its star director and its lead actor deserve any of it
Ask us if Himmatwala justifies all the hype surrounding it, and the answer is a clear 'no'! It is purely old wine in a not-so-new bottle. The story of the original Jeetendra-Sridevi starrer was not extraordinary, and the screenplay of Sajid Khan's 'rewrite' doesn't make it any better. It is a rather simple story about an honest temple priest, Dharam Murti (Anil Dhawan) who witnesses a murder and decides to give evidence against the village's powerful landlord who has committed the crime. The landlord engineers a ploy to ruin Dharam's reputation and status. Ashamed of his tarnished image in the eyes of his peers, the priest commits suicide, leaving behind his wife Savitri (Zarina Wahab) and two young children, Ravi (Ajay Devgn) and Padma (Leena Jumani) to face the atrocities. Ravi flees the village and travels to Mumbai to make a life, but returns years later to avenge his father's death and the shame caused to his family. Things get complicated when he falls in love with the landlord's daughter Rekha (Tamannaah Bhatia). The twist in the plot thickens when it is revealed that Ravi is not actually Savitri's son…
While talking about his remake… oops… rewrite, Sajid had proudly said that we wouldn't have seen Ajay Devgn in such a role before. Right Sajid, no director has ever wasted a powerhouse of talent like Ajay like you did (of course, not to forget your predecessor, David Dhawan in Rascals). Ajay's entry, which according to Sajid was supposed to be one of the top three hero entries of Hindi cinema, is simply average. Sajid, you lose the bet, there was nothing for people to whistle and clap… we want our money back! The filmmaker had also made it clear that he personally doesn't approve of superficial action sequences in films as it's out of fashion. But then here we have Ajay knocking down 20 imported bouncers using temple bells and even lifting a bullock cart, minus the animal thankfully.
Sajid tries hard to paint the already-woven characters from the original with distinct identities, but he fails to do so, considering there's nothing original in this version. There are major errors in the screenplay, and while the first half drags, the second half ends without quite fulfilling the expectations.
Performance wise, Ajay Devgn is a misfit. This role would have probably suited Salman Khan or Akshay Kumar better! Ajay tries hard to impress, but fails to carry off the Himmatwala tag with the required angst. The scene where he fights with a tiger is poorly done and on top of that, the Singham star cracks a PJ on the tiger. Poor animal, we sympathise!
Tamannaah, though efficient in a small role, seems to be at the director's mercy as she is made to walk in and out as per his whims and fancies. Paresh Rawal comes up with a decent performance, but at times he tries to act too funny and ends up looking like a clown. We don't know what made a versatile actor like Paresh do a role immortalised by Kader Khan many moons ago. Mahesh Manjrekar is strictly okay.
Overall, Himmatwala is not even a bearable film. It has enough, should we say ONLY, loopholes. If you are willing to leave your brains behind for a while and hope to catch a laugh riot, beware. Don't dare to become himmatwala… or else be ready to face the consequences.
Rating:
out of 5
Reviewed by Dhiren Trivedi
* Poor
** Average
*** Good
**** Very good
***** Excellent