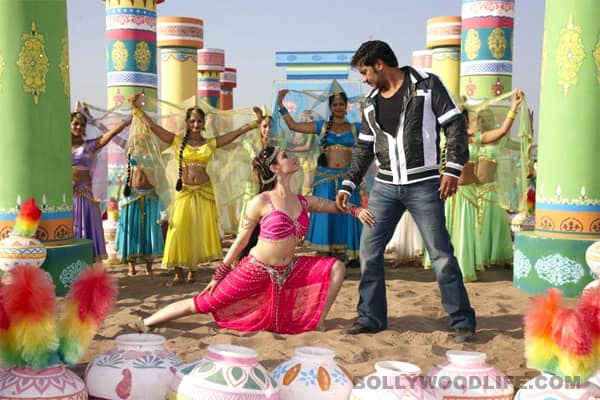 Music: Sajid-Wajid, Sachin-Jigar
Lyrics: Indeevar, Sameer Anjaan
Singers: Sunidhi Chauhan, Mamta Sharma, Bappi Lahiri, Shreya Ghosal, Mika Singh, Shaan, Soham Mukherjee, Subh Mukherjee
Sajid Khan brings the '80s back with his remake of the 1983 hit film Himmatwala that starred Jeetendra and Sridevi. And Sajid-Wajid and Sachin-Jigar compose songs that mirror the era of dhinchak beats and masti bhari tunes.
First off is the new but unimproved version of Naino mein sapna – originally composed by Bappi Lahiri – sung by Shreya Ghosal and Amit Kumar. Shreya is spot on as always and Amit Kumar pays a fitting tribute to his father Kishore Kumar (who sang the original), albeit with the help of digital enhancement. But there are no twists to this one. The energy and the vibe of the original song are missing. We would rather tune in to Bappida's version over and over again. Sajid-Wajid have also redone Taki taki from Himmatwala and it is quite bland too. The only refreshing aspect of it is Mika's voice. Everything else is just blah.
Next up is the original number Dhoka dhoka, designed to be an item song. But the lyrics are far from catchy. In fact, they sound jaded – Patna ki patti padha ke baby, Punjabi dupatta dilake babu, Kolhapur wali mirchi chakhake, Kolkata ki mishti khilake…de gaya de gaya dhoka dhoka de gaya re. Mamta Sharma and Sunidhi Chauhan are by now well versed with this genre and they breeze through the number. The incessant use of the synthesizer and drum rhythms makes the track devoid of variety. Bappi Lahiri's energetic cameo towards the end is the only reason this song becomes just a teeny-weeny bit listen to-able.
Bum pe laat is a comic number with trumpets and drums rendered by Shaan and a kiddie chorus sung by his sons Subh and Soham. The comic sound samples interspersed in the track are cute, but unimaginative. The stanza too is very plain.
Sachin-Jigar compose the music for the disco number Thank God It's Friday, which sounds like a mash-up of Saturday Night Fever songs. It resembles the 1978 track Thank God It's Friday by the band Love and Kisses. Yet, it's pleasing to the ear and is technically one of the most authentic disco songs of our times. Sunidhi Chauhan sings the cheeky oohs and aahs and the lalalas with élan, and proves once again that she is one of the most versatile singers of her generation.
Despite Sachin-Jigar's efforts, this album is one of the most mediocre representations of the colourful '80s. After listening to a blockbuster song like Ooh la la from The Dirty Picture with the 1980s stamp firmly stuck on it, Himmatwala feels like a three-day old roti! Sajid Khan's sister Farah Khan too brought the '80s back with Om Shanti Om – composed by Vishal Shekhar – and the music of that film was 200 percent more entertaining and memorable than this one. Listen to this soundtrack only if someone gives you a bum pe laat!
Rating:
out of 5
Reviewed by Suparna Thombare
* Poor
** Average
*** Good
**** Very good
***** Excellent