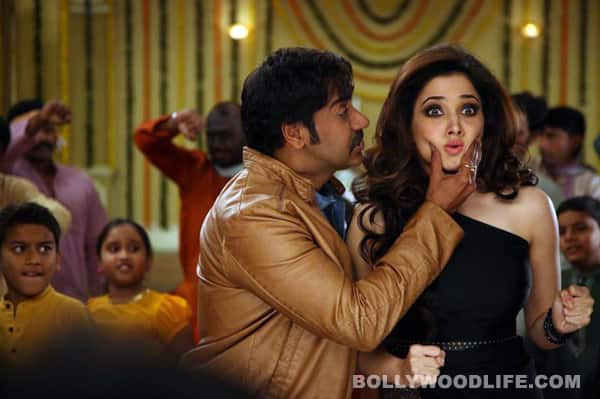 Cineswami wonders who watched Himmatwala in theatres to give it the Rs 31 crore weekend box office collection
It's All Fool's Day today, the first of April. The hoary tradition is to play a silly prank on someone and declare him or her an April Fool. We had always thought that Sajid Khan was a prime April candidate for the august title 'Fool khile hain Gulshan Grover'. However, the great mind behind Heyy Babyy, Housefull and Housefull 2 has proved that he's no Bad Man, let alone a fool.
Himmatwala released amongst much matka thumping last Friday. Sajid decided not to hold any press screenings, knowing fully well that he was in for a critical mauling anyway. His star, the ageing Ajay Devgn was gracious enough to welcome the entire community of film critics into his own family, since he described them as eunuchs. Apart from his serial handclapping, Devgn is a proud man these days, as he has won the coveted Golden Kela award for Worst Actor for his last masterpiece Son Of Sardaar. But, we digress. Coming back to Himmatwala, as Sajid correctly predicted, the media came down like a ton of bricks on the film, including this gracious and popular publication.
The collected might of the media sat back and waited for the flop show to begin. It didn't. On Friday, Himmatwala collected some Rs 12 crore and the weekend total was Rs 31 crore at the box office. Analysts may correctly say that given the wide opening, the collections are below expectations, but the fact remains that Rs 31 crore is a strong opening, any which way you look at it. Given that the television rights have also been sold for a high Rs 40 crore, if our Naaz Building moles are to be believed, then Sajid and his team are already handclapping all the way to the bank, not even bothering to stop at traffic signals to beg some loose change.
All of this begs the question – who are these people who have gone to watch Himmatwala? It's a tricky one, much like the George W Bush conundrum. Nobody in America actually admitted to voting for Bush, yet he became President. Twice. Similarly, it is fashionable to take a dump on Himmatwala and say that it is the great unwashed, the single screen savages, who are watching Himmatwala in great numbers. That's just a steaming pile of Kareena Kapoor's pet name in Kabhi Khushi Kabhie Gham. You, yes we mean You, have also been sneaking off to your local plex to watch Himmatwala. And yes, You enjoyed it tremendously though You may not admit it even to Yourself. After all, Rs 31 crore don't lie.
Sajid Khan, we bow down to your superior intellect. You clearly know your audience. They deserve you. They swallow your crimes in the name of cinema whole and encourage you to come back with more dung for them to wallow in, like the livestock they are. You are no April Fool sire, your audience is.
Now, if you'll excuse us, with great difficulty we've managed to secure a Himmatwala block booking for BollywoodLife staff. See you on the other side. Goodbye.