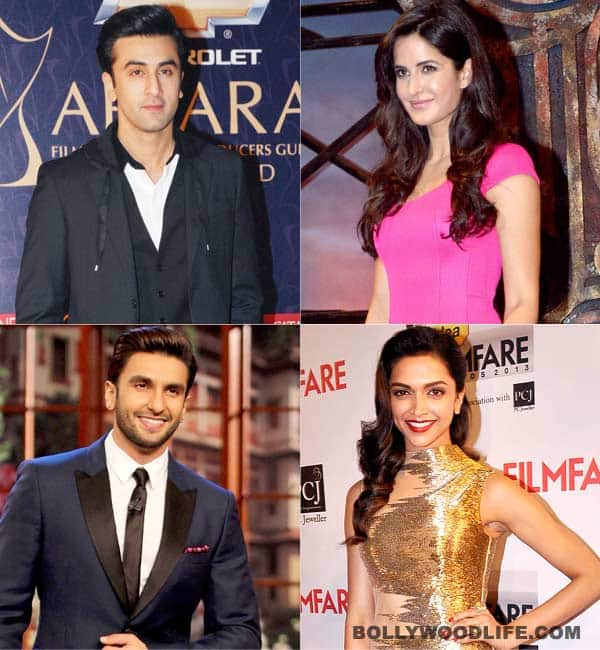 skip advertisement
As we celebrate the festival of colours with much needed splash, we list down some really exciting celebs from filmdom that make the landscape of Bollywood look vibrant with the distinctive colors of their on-and-off screen personalities. Take a look!
Colours are very significant in our lives, as indeed in our Bollywood movies. And here are our glizy B-town dwellers who sparkle on the silvescreen with their charm and popular personas. Just like every shade and hue of a rainbow that stands for various moods and sentiments, our filmi folks too stand for a peculiar prototype defined largely by colours. And what better occasion that the festival of Holi to celebrate the fun of 'VINBYGOR' magic that our glitteartis bring along? From Ranbir Kapoor to Amitabh Bachchan and from Katrina Kaif to Deepika Padukone here are the A-listers showcasing their true colours to charm cinegoers.
Amitabh Bachchan: If the coloure red defines the deep need of keeping oneself busy with work, unparalleled commitment towards work and action oriented with desire to be engaged in something one is truly passionate about then the true shenshah of Bollywood Amitabh Bachchan stands for this royal hue.
Shahrukh Khan: Orange stands for a great need to be with people, to socialize with them, and be accepted, respected and above all loved immensely by everyone. It also stands for a need for challenging oneself relentlessly to emerge victorious all the time. We believe SRK embodies the spirit of this beautiful colour with his wit, his warm personality and his ability to stay on the top.
Aamir Khan: In our collective minds nobody represents the colour yellow the way Mr Pefectionist of B-town does. Yellow demonstrates that you have a deep need for logical order in your everyday life and to be able to express your individuality by using your logical mind to inspire and create new ideas. Doesn't our shorty Khan do that by using his intelligent mind in whatever endeavour he takes up?
Deepika Padukone: your deepest desire for simplicity in your own life and to be independent as well as self-reliant in both your professional as well as in your personal space is best captured by the colour white. Deepika Padukone's effortless elegance and the calmness she has about her demeanour makes the leggy lass the unquestionable brand ambassador of this serene hue.
Anil Kapoor: The 24 actor has not only reversed the biological clock with his evergreen personality and his legendary refusal to grow mature, Anil Kapoor lived every shade of the colour Green in the truest sense of the word.
Vidya Balan: Those who lead their lives according to their ideals and beliefs without having to change their inflexible viewpoint of life to satisfy others, often become blue-eyed darlings of B-town. Vidya Balan with her boldness and her efficiency to reinvent her craft stands for the colour blue
Ranveer Singh: The live wire of energy aka hyperactive Singh is like a flash of lightening-silver and pure, unadulterated energy. Wherever he goes the Lootera star makes sure that people are struck by a thunderbolt that only he can generate with his relentless antics and his boyish charm.
Katrina Kaif: She is the quintessential Barbie doll of B-town who created a niche for herself with her solid work ethics, hard work and angelic personality. Didn't Kat turn her contemporaries green with envy and her admirers scarlet when she walked the ramp as a Barbie to relive the concept pink?
Ranbir Kapoor: He is a chip of the royal block. The blue-eyed boy of B-town who hails from the first family of Hindi filmdom, Ranbir Kapoor has proved his acting talent by portraying some really challenging characters on the screen. If the colour Indigo stands for royalty, harmony in work and excellence, Ranbir simply owns it.