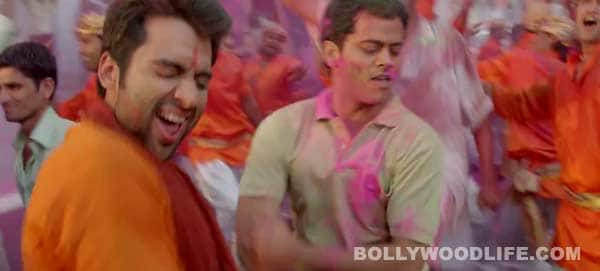 skip advertisement
It's holi, yay! And a perfect time to look at how colourful our movies are getting…and for what reasons!
'Holi kab hai…kab hai Holi?' is the dialogue from Sholay that bachcha bachcha remembers as the colourful day draws near. But while the occasion of Holi – in the films, of course – gave enough reasons to filmmakers to colour their sets in the gulaabi gulal, makers nowadays don't really need Holi as the designated day to grab a fistful of this pink powder.
Gone are the days when our onscreen characters had to wait for Rang Panchmi to guise their feelings of romance (like in Rang barse from Silsile) or psycho love (like in Darr) with the colours. Now, the colours follow a different route – one that doesn't lead to Holi.
We get to see colours – onscreen, that is – during Durga Puja (Kahaani), Janmashtami (Rangrezz), Ganpati visarjan (Agneepath) or even in a romantic scene (like in Aiyya). Just like that.
But it's not the occasions per se that made the Art Directors of today turn to colours. It was the mood, the emotion of the scene that got rightfully rangeen with physical colours. So while we had colourful mists hovering over numbers filled with masti – Bharat Mata Ki song from Shanghai where Emraan Hashmi or Yeh Jawaani Hai Deewani still featuring Ranbir Kapoor and Deepika Padukone, anger – Hrithik Roshan's number Deva Shree Ganesha from Agneepath, we also had Rani Mukerji taking a dip into the water-dissolved 'blues of her muse in Aiyya.
But it's not always about the colourful reds, oranges and blues. In Delhi Belly, the lead actors were coated with grayish-white powder – in the DK Bose song, remember? – to depict how f**ked up life can get.
So take a look at these colourful stills and tell us: which one of these is your favourite?