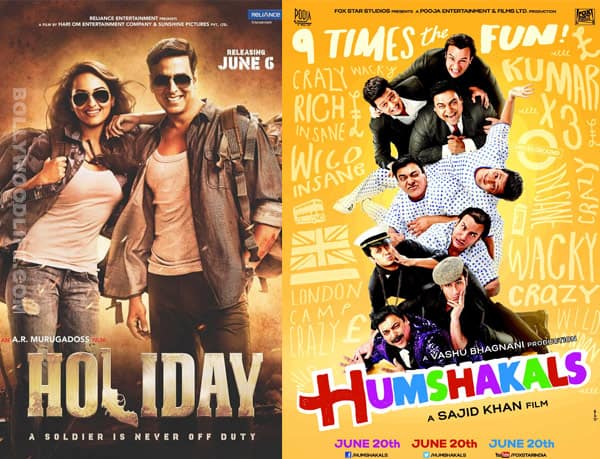 As the IPL season approaches its end and  a bunch of big releases lined up, we tell you what to expect from power packed June at the cinemas
On June 1, the long drawn out Indian Premier League tournament will come to an end, concluding a tumultuous summer that also included the great spectacle of the Indian general elections. Several films are champing at the bit, waiting for the IPL tamasha to end so that they can have undivided eyeball attention. June 6 will see the release of AR Murugadoss' Holiday – A Soldier Is Never Off Duty, starring Akshay Kumar and Sonakshi Sinha, a remake of Murugadoss' own Tamil hit, the Vijay starrer Thuppakki.
However, Thuppakki is not the only show in town on June 6. Punters with a taste for the alternate also have the option to catch Nitin Kakkar's homage to Bollywood, Filmistaan, starring newcomers and which arrives after conquering festivals the world over. Also releasing on that date is Nisha Pahuja's documentary The World Before Her that contrasts two women – a Miss India aspirant and a right wing activist. Anurag Kashyap is promoting the film.
June 6 seems a relatively calm date in comparison to June 13 that will see as many as seven Hindi releases. Leading the pack is Kabir Sadanand's heavily promoted Fugly, featuring cameos by Akshay Kumar and Salman Khan and starring Jimmy Sheirgill, Mohit Marwah and Dimple Kapadia. Heard of Popcorn Khao! Mast Ho Jao, or Tum Milo To Sahi? No, us neither. Those were actor turned director Sadanand's previous directorial ventures.
And then there is a veritable glut – Md. Mohibul Haque's grandly titled 18:11 (A code of secrecy…!), starring newcomers that apparently "is based on science and technology and packed with romance"; Chandersen Singh's Bollywood Villa, also with newcomers, that "not only depicts the glory, glamour, magnitude attached to the Indian film industry but also manages to showcase the treacherous, profiteering deceitful side of it"; Prakash Saini's Chal Bhaag, starring Deepak Dobriyal as Munna Supari; Debaloy Dey's Macchli Jal Ki Rani Hai, starring Swara Bhaskar as a housewife who goes paranoid after a road accident; Yusuf Ali Khan's The Untold Story Aahinsa, also with newcomers, that takes up cudgels against the burning issue of cow slaughter (yes, really. We're not making this up); and Arshad Yusuf Pathan's Unforgettable, again with newcomers, about "the unforgettable battle between first love and soul mate, fought on the battleground of one's heart and mind."
After the feeding frenzy of June 13, Humshakals has a solo release on June 20 where hapless/hopeful customers will endure/enjoy a triple dose of Saif Ali Khan, Riteish Deshmukh and Ram Kapoor.
The June releases conclude on the 27th with another solo release, Mohit Suri's Ek Villain, starring Sidharth Malhotra, Shraddha Kapoor and Riteish Deshmukh, that looks suspiciously like the Korean film I Saw The Devil – something that Suri has vehemently denied, admitting to only taking a line of dialogue from it. So, that's all right then. We believe him.