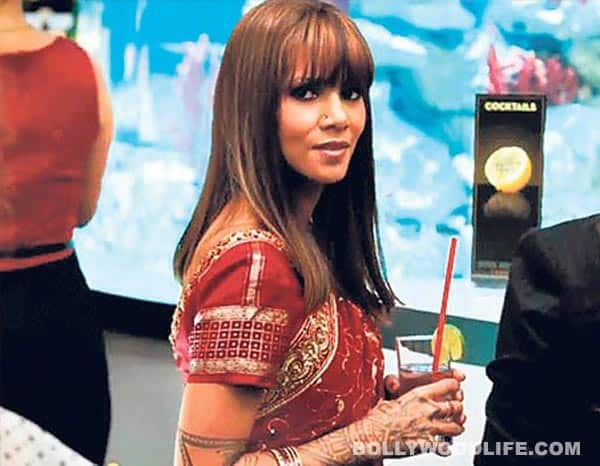 The Bond girl is fascinated with Indian culture and wants to know it better. But for the time being, the ethereal beauty will celebrate her love for India by wearing a sari in her upcoming film Cloud Atlas
Halle Berry definitely has it in her to look sizzling and sensational in a sari. Standing at just a little over 5 feet Halle Berry's petite frame, her even complexion and her incredibly famous curves make her look as if she was born to wear the traditional long drape. So here's Berry dressed in a glitzy red Sari for her forthcoming release Cloud Atlas.
Berry's smoky eyes, her elegant pout painted in crimson and the Henna (mehendi) on her hands make her look like a traditional Indian belle. Her golden bangles and the nose-stud complete the look. What's more! The 46-year-old is so charmed by India that she is going gaga about its ancient culture. "India is a fascinating country with myriad layers in it. I want to take a step towards learning more about one of the oldest cultures in the world. I have many Indian friends and it's fascinating to hear their stories of ancient India," she said in an interview.
Set to release in October, Cloud Atlas is written and directed by Lana Wachowski and Andy Wachowski along with Tom Tykwer. The film has Tom Hanks playing the lead. Cloud Atlas got a ten-minute long standing ovation at the ongoing Toronto International Film Festival. It is the story of humankind and it delves into how the actions and consequences of each person's life impact the other through the past, present and future. Berry plays a girl who meets her true love in different eras.
Earlier this year, the media power-house Oprah Winfrey had worn a shiny orange sari on her visit to India. And now Berry babe is all set to win millions of Indian hearts by wearing the elegant outfit. Jai Ho!