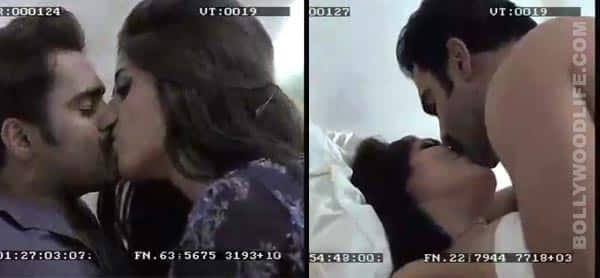 In what seems to be a publicity stunt, Gihana Khan sizzles in a red hot make-out session with Sachiin Joshi
Okay folks, this just came in, and is possibly the raunchiest clip that we have ever come across. And raunchy in eer… a bad way!
In the one-minute clip, Sachiin Joshi, who has definitely earned the title of a male Veena Malik, is seen snogging the lips out of Gihana Khan, the Afghani-Spanish starlet from Dubai. We say that, because a similar tactic was used by Pakistani starlet Veena Malik when she released an MMS showing her making-out session in full steam with an unidentified man, probably the second lead in the B-grade film that she was promoting.
And this video too is made for publicizing the film Mumbai Mirror. A busty Gihana is shown doing a Sunny Leone, as she loses her sheer robe to reveal the tiniest of purple bikinis, from which she is almost bursting out! And to add a cherry to the "cheesy" cake, Gihana then tries to seduce, or at least something to that effect, her co-star Sachiin and asks him to follow her into the pool. And Sachiin Joshi, sporting a baby six-pack abs follows her!
So check it out BollywoodLifers, and see if you too feel that Sachiin Joshi is indeed acting like a male Veena Malik in this clip!