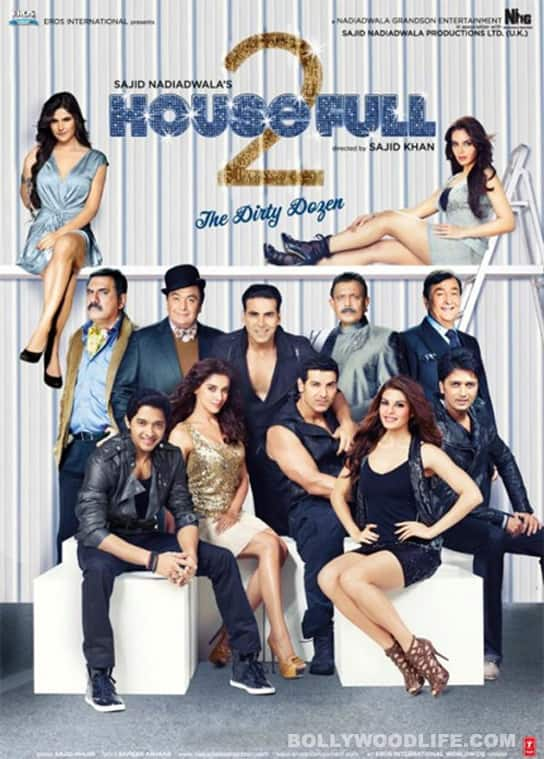 Click for synopsis, pictures, news, gossip and interviews
Housefull 2: The Dirty Dozen is a movie directed by Sajid Khan and produced by Sajid Nadiadwala. The star cast includes Akshay Kumar, Riteish Deshmukh, John Abraham, Asin, Jacqueline Fernandez, Zarine Khan, Shazahn Padamsee and Shreyas Talpade in lead roles. And Mithun Chakraborty, Randhir Kapoor, Rishi Kapoor and Boman Irani in supporting roles.
MOVIE REVIEW
HOUSEFULL 2: Akshay Kumar & Mithun Chakraborty rule
MUSIC REVIEW
HOUSEFULL 2 music review: Plain silly!
THE STORY
The much talked about sequel of Housefull that released in 2010, Housefull 2: The Dirty Dozen revolves around four fathers, four daughters and four prospective son-in-laws. While each daughter dreams of marrying the richest grooms, the to-be grooms are busy pretending to be 'that' richest guy around. And to add to all the confusion none of these twelve characters can stand each other, yet all live under the same roof and constitue what's called a 'housefull'.
PICTURES
Asin, Riteish, Jacqueline, Sajid at special screening of 'Housefull 2′
Akshay Kumar, John Abraham and 'Housefull 2' team photographed at the airport
NEWS, GOSSIP & INTERVIEWS
'Housefull 2' gets the second biggest opening of the year
Shazahn Padamsee: 'Housefull 2′ is hilarious!
Six trailers to be attached to 'Housefull 2'
John Abraham wants Asin to marry a Malayalee
Jacqueline Fernandez: I was intimidated by Asin
Asin Thottumkal: It's hard to keep pace with Salman Khan
HOUSEFULL 2: No catfights for Asin, Shazahn, Zarine and Jacqueline
Jacqueline Fernandez: I have no mentor in Bollywood!
Is Zarine Khan a misfit in 'Housefull 2′?
Do you want to watch 'Housefull 3′?
Malaika Arora Khan: From Munni to Anarkali!
Akshay Kumar: Comedy is tougher than action
Shazahn Padamsee: Being on the poster of 'Housefull 2′ is enough for me!
Zarine Khan: 'Housefull 2' is full of confusion and chaos!
Does Jacqueline Fernandez need a reality check?