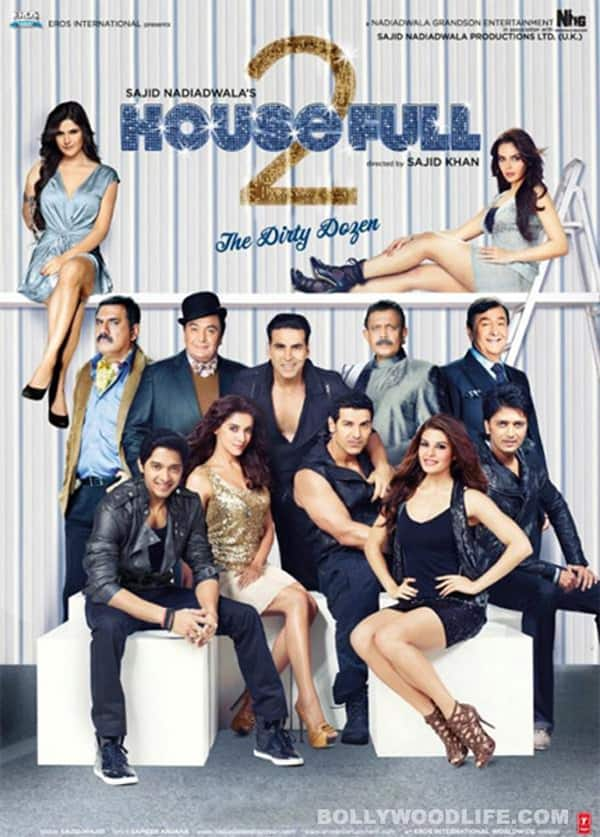 However, the rest of the cast just plays along in this hilarious comedy
Director Sajid Khan may have tom-tommed the virtues of his latest movie, Housefull 2, all over the world, but it seems as if he is having a massive spell of insecurity over the project and its acceptance by critics and the audiences. According to him in an interview, "Critics never rate any blockbuster well. There are four films which have crossed Rs 100 crore. I am not counting Agneepath which has just released this year. All those films were run down by the critics." As a result, his screening for the media was not held the day before release, as is the norm, but on the Friday that Housefull 2 opened in theatres. Of course, there was a special premiere held in Singapore, a junket at which all the stars crowding the script were seen playing their parts with consummate professionalism.
Housefull (part one) was a huge success with its slapstick comedy and OTT humour. This one has a lot more people wandering in and out, perhaps with the aim of tapping a vein in almost every generation and fan club. And there are gags and giggles galore, each actor putting in a lot of effort and energy, but after the first half hour or so, the funny bits gets repetitive, forced and just plain stupid. Laughter is invited in the silly situations and the obvious jokes, and some of these are indeed hilarious, but there are too many of them to keep the adrenalin going after a decent start.
Akshay Kumar, Riteish Deshmukh and Boman Irani are repeats from Housefull, while John Abraham, Shreyas Talpade, Asin, Jacqueline Fernandez, Shazahn Padamsee, Zarine Khan, Rishi Kapoor, Randhir Kapoor, Mithun Chakraborty and various other people and animals (a crocodile and a snake, to mention just two) who wander in and out are novelties.
The story is complicated by the number of characters involved. Four conmen – Sunny Sharma (Akshay), Max Mahadkar (John), Jwala Chaudhary (Riteish) and Jai Bose (Shreyas) – are forced to live in the same house, a palatial mansion, even though they cannot stand the sight of each other at all. They are married to four beautiful girls – Sunny to Henna (Asin), Jwala to JLo (Zarine Khan), Max to Bobby (Jacqueline Fernandez) and Jai to Parul (Shazahn Padamsee). And they are all settling down in some kind of peace when the fathers of the girls are introduced, en masse. The whole crowd moves into JLo's father's huge house and then utter madness ensues.
In this whole mess, Akshay is perhaps best of the lot, dragging John along. Riteish is his usual funny self – he does need to do better work now, wethinks – and Shreyas has his moments. Mithun, Rishi, Randhir and Boman play valiantly along, though why they agreed to be part of this one we cannot fathom. As for the girls, Asin tries very hard, while the others are just bimbo eye-candy. Chunky Pandey, Johnny Lever and Ranjeet come and go. And Malaika Arora Khan wiggles her way into a disco with her usual rather tired moves.
And that is where we would rather have been wethinks!