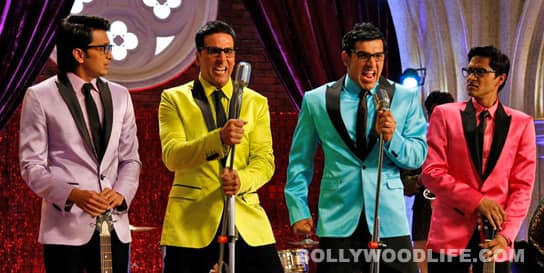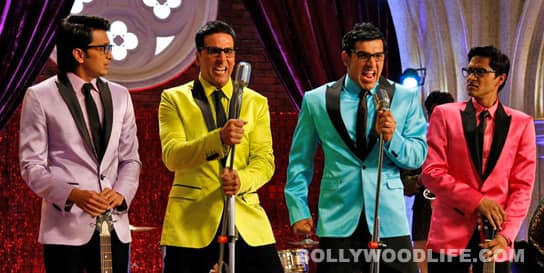 Music director: Sajid-Wajid
Lyrics: Sameer
Rating: 2
While many comedy capers expect you to leave your brains behind, even the music of this Sajid Khan film is mindless
Housefull 2 is supposed to be a comedy and the songs are expected to be entertaining and fun. But the music of Housefull 2 comes nowhere close to the melodies of Dabangg, which was music director Sajid-Wajid's last big hit.
Anarkali disco chali has nothing new to offer. It's not the worst item song to come out of Bollywood, because some of the recent numbers like Razia and Jalebi bai have been an assault on our senses. So this one's bearable, but only if it's showing on TV and you can't find your remote control.
Right now now is a straight copy of Akon's Right now. The lyricist (Sameer) couldn't even think of new words and has gone right ahead with 'right now'! It's one of Akon's most popular songs in India and was one of the most obvious tracks to lift from. It's just sad that we can't even compose our own completely original hip hop number.
Do you know draws inspiration from several oldies- the feel is similar to Humko tumse ho gaya hai pyar from Amar Akbar Anthony, the interlude is like the one in Hoga tumse pyara kaun from Zamane Ko Dikhana Hai and it also reminds you of Jaanu meri jaan from Shaan. Despite all the influences, it doesn't manage to become appealing enough, romantic enough or cute enough.
Papa to band bajaye is probably the only slightly more entertaining number. The lyrics are just hilarious. It's actually quite ridiculously imaginative, with lines like principal khud ban jaye, keep quiet rule banaye etc etc. Honestly, anyone could have written the lyrics of this soundtrack; perhaps Sajid could have done it himself. Also, this song is uncannily similar to the popular Australian track We speak no Americano.
Looks like this one's a totally inspired album. Housefull 2 music is plain silly,  but who cares!