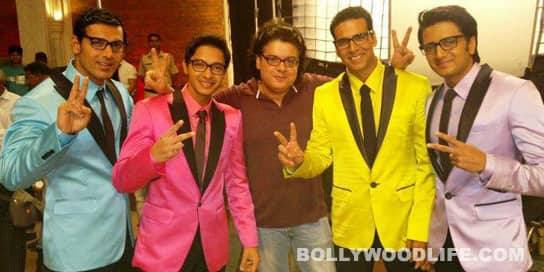 As the news of the leak of the Housefull 2 song Papa toh band bajaaye does the rounds in the media, we wonder if all this brouhaha created by the makers of the film is genuine or fake…
When part of a new film is available for viewing before the makers are ready, it causes a certain amount of disturbance in the team that is responsible for the release. Something like this has happened with Sajid Khan's newest, Housefull 2. Amidst all the commotion about a song being leaked to the media, over the Internet and elsewise, the one person who's trying his best to bring some calming levity into this situation is actor Riteish Deshmukh. While producer Sajid Nadiadwala has left no stone unturned to express his disapproval over the leak, Riteish has conducted a poll on the micro-blogging site Twitter asking people who they think is a better dancer – Sajid Khan or Sajid Nadiadwala. Wethinks it's the veterans who are rocking the dance floor – shaking a leg or six with a great amount of enthusiasm are Mithun Chakraborty, Randhir Kapoor and Rishi Kapoor, who are seen grooving to Farah Khan's choreography and flaunting their signature dance moves. Sajid Khan did an impromptu jig in true Mithun-da style, while Nadiadwala, who's not known for his dancing prowess, had crew members in hysterical giggles with his funny moves. The set was brimming with fun and banter. John Abraham, Akshay Kumar, Shreyas Talpade and Riteish Deshmukh shimmied around in colourful tuxedos and geeky glasses.
The question remains whether the video has been uploaded into cyberspace by some prankster or if the makers came up with this brilliant idea of creating much-needed hype for the movie. Whatever the story is, we must say the sneak peek into the Housefull 2 house was quite enjoyable! Don't you agree?
[jwplayer mediaid="75480″]