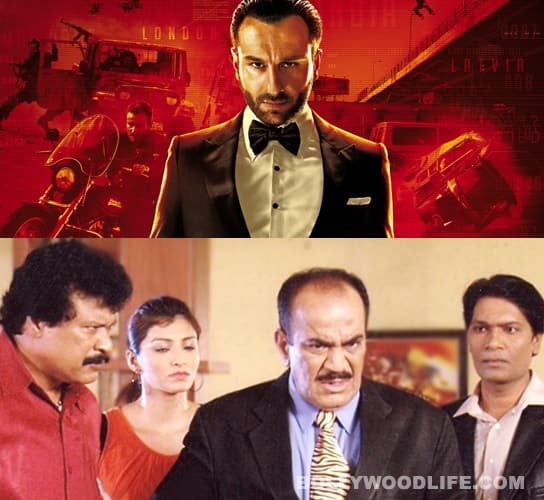 If you are a true CID fan, you already know the answer. Or so you think
Many of you out there who loved Ek Haseena Thi and Johnny Gaddar are probably waiting with bated breath for its director Sriram Raghavan's upcoming film Agent Vinod. He has called the movie an intelligent entertainer. The movie stars Saif Ali Khan and Kareena Kapoor, but did you know it also stars someone you've seen quite a few times on a television show? BP Singh, the producer, director and creator of the long-running show CID has done a cameo in Agent Vinod! BP Singh has essayed the role of a senior officer from the Research and Analysis Wing (RAW) and will be Agent Vinod's boss.
Are you wondering how come Sriram cast BP Singh? He usually only plays the unnecessarily strict boss of ACP Pradyuman on the show and appears in special episodes of CID maybe once a year. He is happy being behind the camera, even directing the episodes but he keeps away from acting. Why did Sriram choose him? It's not really surprising. But did you know where Sriram Raghavan actually honed his thriller-writing skills? On the sets of CID! Sriram wrote for the show in its first few years and was largely responsible for establishing the show's fan base and giving each character their unique identity. CID's producer BP Singh recently revealed that Sriram is unofficially associated with it even now. The two have been friends for more than fifteen years now so when Sriram was casting, he thought of Singh. And when Sriram requested that he be a part of Agent Vinod, Singh couldn't refuse. Will he be as evil to our comic Vinod as he is to Freddie? Guess we'll know on March 23.
ALSO READ: AGENT VINOD music review: Forget mujra, pick the pungi!