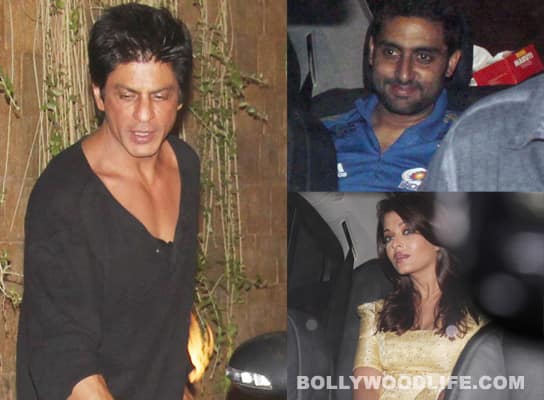 It might seem like the junior Bachchan and his biwi have put their differences with Shahrukh behind them, but there's more to that story than meets the eye
Everybody – including the media and SRK's friends – were surprised to see Aishwarya and Abhishek Bachchan drive into Mannat for Karan Johar's birthday celebrations. There has been a history of pangas between Ash and SRK for many years now, and she was the last person anyone would expect at SRK's bash (after Salman Khan, of course!). Then why did SRK invite the couple over? Here's why: Shahrukh knows that birthday boy Karan is close to Abhishek and thought it would be inappropriate to leave them out of the guest list. But that doesn't mean all's well between them now. Abhishek was watching the KKR vs MI match at home before driving to the party. And when he turned up at Mannat, he was wearing the Mumbai Indians t-shirt. A good way to take a dig at SRK, right? While all of SRK's friends who attended the party were supporting his team, the Kolkata Knight Riders, Abhi turned up supporting MI (as you know, Bachchan's close to Mukesh Ambani, while SRK is friends with his warring brother Anil). Abhishek has inherited the frenmity with the King Khan to some extent, though he does tell friends that he has nothing personal against SRK. And there are many like him in Bolly-biz, and it could cause quite a roar if these 'default enemies' partied together.
Salman-Bipasha
Salman has been quite vocal about his dislike for John Abraham and that has resulted in a sour relationship between John's now ex-girlfriend Bipasha Basu and Sallu. Guess now that the John-Bipasha romance is over, Bips might try to mend fences and invite Sallu for her next big party!
Saif Ali Khan and Shahid Kapoor
Saif is quite a cool guy, but he can never be seen in the same frame as Kareena's ex-flame Shahid Kapoor. If they do get snapped together, it'll be great fodder for the tabloids. So far, the two have managed to stay as far away from each other as possible.
Deepika Padukone and Katrina Kaif
Deepika's ex-boyfriend Ranbir Kapoor was linked to Katrina even before the couple had broken up. Since then Deepika has made her dislike for Kat very clear. She even took digs at the actor on Koffee with Karan. This is a classic "other woman" scenario and its a kind of enmity that is very unlikely to turn into friendship!