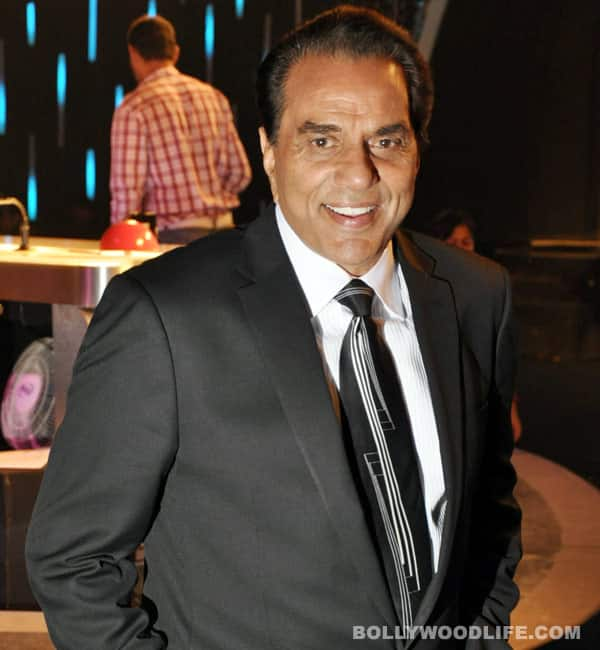 Those who have watched Sholay will understand how the Punjab da puttar had to struggle to marry his dream girl, Hema Malini
When you mention Dharmendra, the first thing that strikes you is the cult dialogues mouthed by the legendary actor in his glorious and successful film career. The 77-year-old actor always had one for every occasion, in every film! These are the dialogues you know by heart. But did you ever wonder how they might appear to the English-speaking audience? We did, as the veteran celebrates his 77th birthday tomorrow. And this is what we got! Must say, we couldn't wait to share it with all of you. Presenting the most unforgettable dialogues from one of Bollywood's most handsome actors of all time. Read it aloud with full conviction and see what happens…
Kutte! Main tera khoon pee jaaunga
Dog! I will drink your blood (Ewwww!)
Basanti! Inn kutto ke samne mat nachna
Basanti! Don't dance in front of these dogs… (Or, they might bite you?)
Yeh Basanti hai naa is se mera lagan honewaalaa tha, chaachaa. Lekin iski buddhi mausi ne bich mein bhaanji maar di. Ab mai is dooniyaa me nahi rah sakata. Gaon-waalo tum ko mera aakhari salaaaam.
This Basanti there no, with her my marry going to happen, uncle. But her old aunt in middle created nuisance. Now I in this world cannot stay. Villagers, to you all my last salute
Mausi se kaun shadi karega saalo, mujhe toh woh Basanti se shadi karni hai
Who'll marry aunty buggers? I want that Basanti marry to do
Saheb, vivaah ke uparaant sab yahi kehne lage hain ki mujh mein pagalpan ke koi lakshan nahin hain
Sir, marriage later, everyone this only telling started that I have crazy of any signs not there
Khada khada kuch nahi kar raha hoon, bas aake aake khada hua hoon.
Standing, standing doing nothing me, just coming, coming standing alone
Nasht nahi saheb.. Bhrasht, Kahiye bhasha bhrasht ho gayi hai. Kintu ab koi kashta nahin saheb.
Destroyed no Sir, corrupt, say language corrupt has become, but now no suffering Sir