Salman Khan and Kabir Khan's tiff has made headlines for the last few days. There have been a lot of creative differences between the actor and the filmmaker. However Kabir's wife is not affected with this and feels that her husband and Salman make a great team. Yes! Mini Mathur was at an event last evening where she was quizzed about Kabir and Salman's chemistry and how her filmmaker hubby manages to convince SK to do his films every time. This is the third time the actor – director duo is reuniting after delivering Ek Tha Tiger and Bajrangi Bhaijaan. Mini said, "Story is the king. If he (Salman Khan) likes the script he will do it and if he doesn't, than no matter whatever you will do he will not sign your film. Also Kabir feels that Salman is an incredible actor. They make a great team".
Also read: Salman Khan to never work with Kabir Khan after Tubelight?
BollywoodLife was the first one to reveal that Salman wasn't pleased with the climax of Tubelight and he asked Kabir to change it.  In fact, he even demanded it to be shot again. However Kabir didn't agree with SK and since then things had only gotten worse between the two. We got our hands on pictures from Tubelight sets where Salman has replaced the clapboards of Kabir Khan Films Pvt Ltd with Salman Khan Films (SKF) in the studio. And what's surprising is that until recently (not even a week ago) it was Kabir's production banners that were put up in the studio premises. This is indeed serious, don't you think?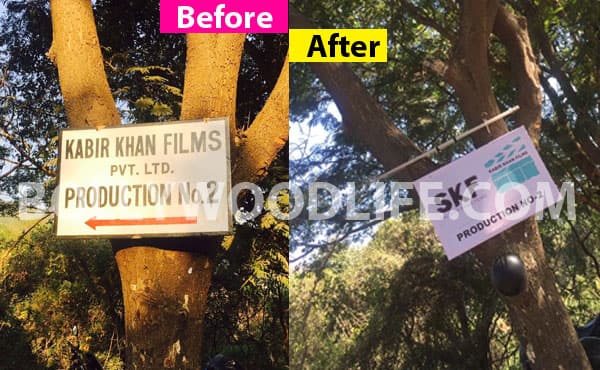 While close friends of the actor and director claim that the fight between them is no big deal, in fact they even had creative differences during Bajrangi Bhaijaan. A few months ago, Kabir took to Twitter to express his views on their fight, he posted a picture of him along with Salman and said, "Next time the press does a story of @beingsalmankhan & me not talking… this is the photo they should use HaHa… #Tubelight #Eid2017".