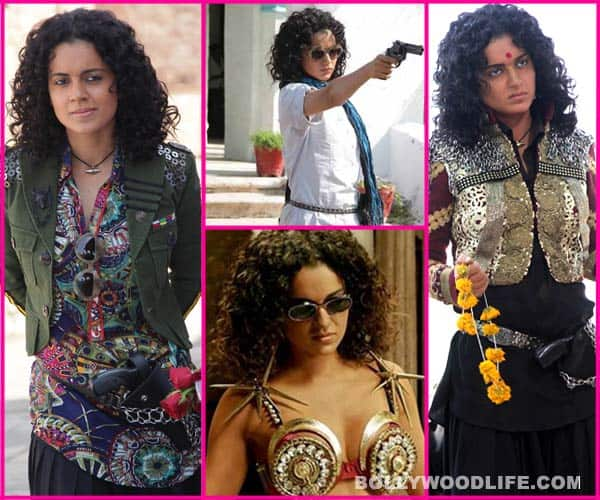 The curly haired babe garnered praises for her last movie Queen. And she's all set to sizzle onscreen in yet another film, Revolver Rani
Kangana Ranaut was loved by the audience as a simple, quiet small town girl called Rani in Queen. However, in her next movie Revolver Rani, though she plays the role of Rani aka Alka Singh, she's nothing like the Rani from Queen. A lot of work has gone behind Kangana's character in Revolver Rani. Kangy has redefined phasion in the film, not just the spelling and pronunciation. The seedhi saadhi Rani from Queen will be seen handling guns in Revolver Rani. And what more, she will be indulging in some fun too, quirky but explicit fun!
So what efforts were involved in getting Kangana's look in Revolver Rani? Kangs will be sporting quirky outfits in the film and she has infused her individualistic sense of humour into her avatar. We'll get to see her donning dhoti pants with leather boots, funky glasses, metal accessories, guns and what more, even teddy bear at times! The curly-haired babe will be seen in cabaret kinda outfits too, which have been sourced from the streets of Europe. Designed by Gavin, Kangana herself has given inputs for her look. She is an evolving fashionista of B-town but that didn't stop her from trying a bizarre look in Revolver Rani.
We hear that Kangana had to learn rifle and pistol shooting for the movie apart from practicing action stunts, that is. Sai Kabir, the director of Revolver Rani hails from Gwalior and he gave the Queen actor 'native' diction and accent classes to help her get into the character of Alka Singh.
Unpredictable and temperamental, Revolver Rani, as she is famously titled by her people, is the woman who can strip mankind off its pants. In the film, we'll get to see that Kangana has Vir Das her toy boy. Despite playing a strong and bold character Alka in the film, we'll get to see that at the end of the day, she is looking for love.
Well, after winning lots of praises from everyone for her performance as Rani in Queen, we wonder if the same name will be lucky again for Kangana Ranaut in Revolver Rani, especially after re-defining phasion, fun and gun in the film. Let's wait and watch! Revolver Rani is slated for release on April 25.