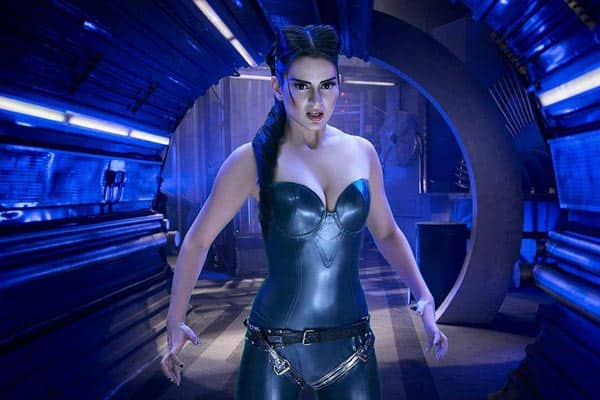 The curly-haired actor has left us impressed with her oh-so-stylish mutant look in her upcoming film
Kangna Ranaut's latest avatar in Krrish 3 has been admired and loved by everyone. In fact, everyone was taken by surprise by this glam girl's sexy look in the film. Well, a lot of efforts have gone in for achieving that look. Here's a little goss on the Fashion babe's look in Krrish 3.
We bet you all must have caught a glimpse of the body-hugging all-rubber latex suit Kangs is sporting in the official trailer of Krrish 3. It took over 45 days to create the suit, after drawing over 25 sketches. Gavin Miguel, who designed the suit, customised it to suit Kangna's body. Kangy had to shed four kilos to fit into it!
Well, Kangna looks super sexy in that outfit but it wasn't easy shooting in it. Designer Gavin says, "Latex is very tough to work with especially in a film. Wearing it for long grueling hours can be stressful and overwhelming." He was all praises for our glam girl Kangna, "Kangna was true to her character and bore a lot of hardships in that costume. I think she is possibly the only one who could have endured this."
The Gangster girl had to report to the sets early as the costume fitting took almost two hours. What more, she had to go through several oiling sessions to ensure free body movement after wearing the suit! But Kangna seems all happy about it. She says, "Sporting such a look has been extremely challenging for me. Though a lot of hard work went behind it, it was all worth it since the feedback has been overwhelming."
All said and done, we excitedly await the release of Hrithik-Kangna's Krrish 3. Don't you, BollywoodLifers?