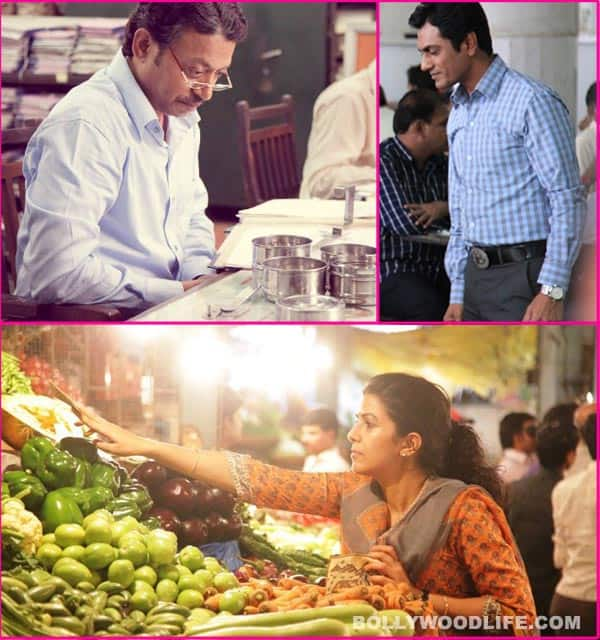 Irrfan Khan and Nimrat Kaur look quite simple and natural in the film. Here's how the designer helped them blend costume with their characters
The Irrfan Khan-Nimrat Kaur starrer The Lunchbox hit the theatres last week. The audiences have loved the film, as have the critics. And controversy is shadowing it – the Oscar row, remember? – which makes it even more popular. What we couldn't help but notice is how well Irrfan, Nimrat and even Nawazuddin Siddiqui delivered their characters. And we aren't just talking about their acting skills, but about their looks in the film. Whether it's Nimrat as a simple-looking housewife or Irrfan as a boringly dressed and lonely widower, the thought that has gone into their costumes belongs to National Award winning costume designer Niharika Bhasin Khan.
Nimrat, who plays Ila, an unhappy housewife, is the typical homemaker, seen in salwar suits and dull coloured dupattas. Niharika has given Nimrat a wardrobe full of sombre outfits in the film, except for the occasions when she dresses up especially for her husband. The dull clothes reflect Nimrat's state of mind in the film, which is not happy. How thoughtful! Irrfan Khan, who plays a widower (Saajan Fernandes) is seen in plain monochrome shirts teamed with trousers typically worn by the middle-class, middle-aged office going man. The simple outfits portray how there is no colour left in the widower's life. Nawazuddin's character Shaikh is supposed to replace Saajan after he retires. So Nawaz dresses to impress in colour, checks, et al. The actor is dressed in crisp formals throughout the film…
Niharika has obviously thought about the most minute details while dressing each character. The designer, known to be a perfectionist, has designed costumes for films like Rock On!, The Dirty Picture, Kai Po Che and more. She says, "I knew I wanted to be a part of 'The Lunchbox', as soon as I finished reading the third page of the script. Ritesh Batra, as well as all the actors, were extremely co-operative. They were outstanding, and had no qualms with wearing whatever was suggested to them."
Whatever her rationale, it works – clothes do make the man…and woman…in The Lunchbox!