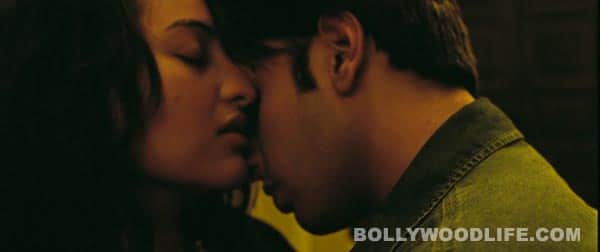 Ranveer gives us the details and thanks his director for making Sonakshi and him comfortable while canning the scene
Actor Ranveer Singh thanks director Vikramaditya Motwane for making him and his fellow actor Sonakshi Sinha comfortable while canning an intimate scene in Lootera. The Band Baaja Baaraat actor elaborated, "Sonakshi is so cool that I never felt awkward. We all are professional actors and this is our job. Vikramaditya made a closed set for our comfort where there was only the cameraman, Vikram, me and Sonakshi. He gave us our own space and was very supportive."
The actor said the director made it clear that if an actor is doing an intimate scene "then respect him or her so that they can perform". "It's a private emotion, it is difficult and the credit goes to the director who was very supportive. I am thankful to him," added Ranveer.
Meanwhile, the actor, who was in the news for his linkup with his co-stars, now takes such things in his stride. He said, "Earlier, when I used to read such stories it used to bother me and I used to think how can they write such things about me, this is my private life. Then I realised such things will happen in the industry, so now I don't even read these stories."
"If you are an actor, such speculations keep happening," added the actor who has "many releases" in the future and would "want to be in the news for my work and not about my private life".
Lootera, co-produced by Anurag Kashyap, Shobha Kapoor and Ekta Kapoor, will release on July 5 in India.