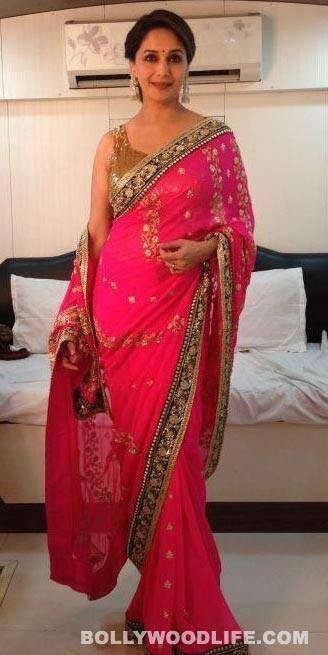 skip advertisement
The actor is healthy and energetic, more so at 45 years old, and she tells us how she does it
Bollywood actors between 45-50 years of age like Salman Khan, Shahrukh Khan, Aamir Khan, Sridevi and Madhuri Dixit-Nene have never had it so good. Scripts are being written keeping their age in mind and their films are doing quite well at the box office and in the hearts of audiences and critics alike.
But little does the doting audience realise that each of these actors has to work on maintaining their fitness levels and looks, on a daily basis. We chanced upon a website where Madhuri revealed the secret to her good health and glowing skin. The actor said that even with her gruelling shoot schedules and meetings, she follows a strict fitness routine and a rigid diet, eating small meals and catching some sleep whenever possible. She also keeps away from the vices of smoking and drinking, which are indulged in by some of today's young actors. Says Mads, "I work out at least six days a week, eat healthy and sleep well. I don't drink or smoke. One should have five to six small, healthy meals a day."
Madhuri's skin was once a problem area – she had bad acne and has said that she would look at herself in the mirror and cry. But now, she gets compliments on her skin. Apart from using beauty products, she says one should "maintain vitamin and mineral intake. The most important factors are to protect against stress, the harsh effects of the sun and the environment". And we'd like to believe you're not in the Botox habit, Mads!
None of this is new for our B-town gals like Kareena Kapoor, Katrina Kaif, Priyanka Chopra, Deepika Padukone, Sonam Kapoor, and so on, who know how to take care of themselves pretty well. But let's see if they manage to look as good as Mads does when they cross 40!