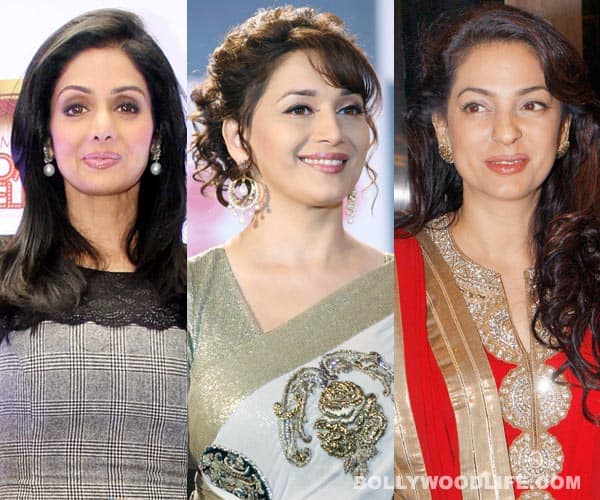 The diva, who in her heydays was known for not being friends with any of her fellow leading ladies, is now seeking buddies by the handful!
Madhuri Dixit Nene, when she was the No 1 actor in Bollywood in the early 1990s, was hardly friends with other female actors. Those were the days when Sridevi, Madhuri Dixit and Juhi Chawla were the three leading ladies of Bollywood, and the press regularly pitted them against each other and promoted their rivalry. And so serious was it that you were either a fan of Sridevi or Madhuri or Juhi; you couldn't be following all three!
Yet, now after all these years, Madhuri is acting alongside Juhi in Gulaab Gang and is seen sharing some great camaraderie, while earlier she was only cordial with Juhi. And it's a well known fact, one that was accepted by Juhi herself in a recent interview, that she was insecure about Madhuri. In fact, in an older interview given to a popular magazine, Madhuri too had agreed that she cannot easily become friends with other female actors. "I don't trust easily. I have never attempted to make friends. Probably under different circumstances I could have been friends with say Neelam, but because of our busy schedules and time constraints…" trailed of the yesteryear diva. Notice that Mads only named Neelam, who was a far smaller actor, while with Juhi and Sridevi who were her direct competitors, Madhuri didn't even acknowledge their presence!
But now you are seeing a totally different side to her. Knowing that she is no more the ruling diva but just another actor who is slowly making a comeback, you can easily notice how she has made her peace with both Sridevi and Juhi. She danced with Sridevi who came on Jhalak Dikhhla Jaa to promote English Vinglish and is acting alongside Juhi, and all seems well! Similar is the case with the other two divas as well, who were once bitter rivals, but are now more than cordial towards each other since there is really no scope for professional jealousy.
Well, seems like the rush for becoming famous the second time around can definitely humble one down. Way to go, ladies! Guess Salman Khan and Shahrukh Khan too will let bygones be bygones and become friends once they too are past their peak and need to make their comebacks! What say, BollywoodLifers?