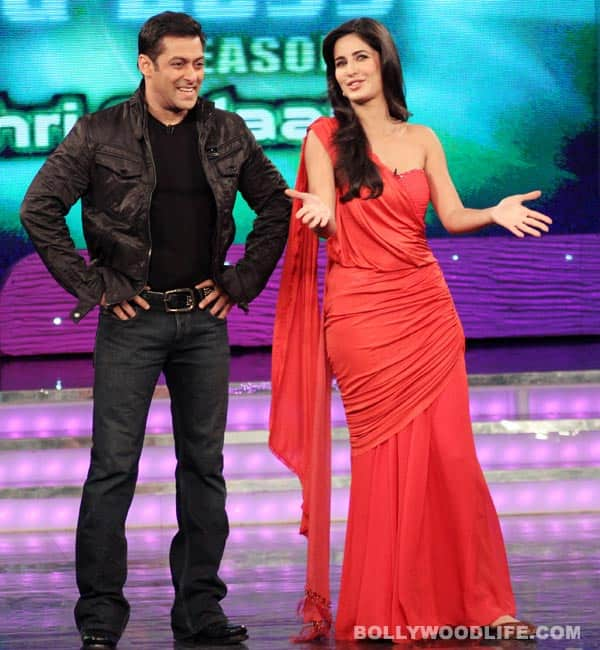 Katrina maintains that her life wouldn't have been the same had she not met Sallu and his family
Salman Khan can change your life for the better if he takes you under his gracious wings. Don't believe us? Look at the likes of Himesh Reshammiya, Sajid–Wajid and many more Bollywood aspirants and you will be convinced of bhai's big role in making stars out of ambitious souls. The biggest beneficiary of Sallu's close friendship, of course, is none other than Katrina Kaif. The Dhoom:3 star doesn't shy away from accepting the massive role Salman has played in her life, in getting her to the place where she has reached today. There's no denying the fact that Kat wouldn't have been the diva that she is had she not put in the hard work she has to make it big in Bollywood. But Sallu's instrumental role in the babe's life will always eclipse Kaif's graceful personality and her tremendous determination to excel.
Katrina too gracefully accepts the fact and maintains that life wouldn't have been the same without the Dabangg dude. "Salman had a huge role in my career. There's no doubt about that. I value his opinion. As a person, Salman has had the biggest impact on my life. I became friends with him when I was young. And his persona is very strong. If I were to look back and see his impact on my life, it's been tremendous. So why are we talking about something as small and segmented as a career. Life is far bigger than a career. Of course, what would my entire life journey have been had I not met that family, had I not met Akshay (Kumar)? I highly recommend that if Salman ever gives you an advice please think about it. Because he comes from a correct thinking process. I'm not saying he's perfect but his thinking process is correct. Obviously, having someone who's so knowledgeable about the film industry was extremely valuable," said Katrina in a recent interview.
We agree with Kat. But now we want to know Vivek Oberoi's take on how big a role Sallu has played (in virtually killing his once flourishing career) in his life. Will Vivek answer? Ideally, he shouldn't!