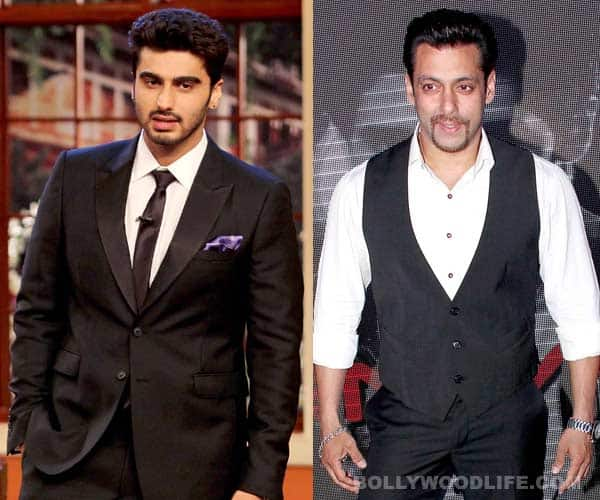 The Finding Fanny actor is all set to pay a tribute to the Kick sensation. Read on to find out how…
Most people know it was Salman Khan who had convinced a chubby Arjun Kapoor to lose weight and become an actor at a time when the latter had wanted to turn director. Now Arjun has, in his own way, with the blessings of his uncle (producer Sanjay Kapoor) sung a song in Tevar, where he's saying he's not just Salman's fan, but that he has his attitude, too.
Sanjay and his brothers Anil and Boney are extremely close to Salman and his family. The dance has been choreographed by Remo and composed by Sajid-Wajid.
Says a source, " In Tevar, Arjun Kapoor plays Pintoo, a typical Agra guy, who is also a big fan of Salman Khan. When they were thinking of the kind of situational songs they wanted to create, Sanjay, Arjun, his director Amit Sharma, lyricist Kausar Munir and Sajid-Wajid wanted to create a song that would capture the essence of Agra and introduce Arjun as Pintoo. It was Arjun and Sanjay who felt that as it was because of Salman that he became an actor and Arjun has always been a big fan of the star even in his real life, the song would be Arjun's way of paying homage to Salman and through the film, thank him for helping him carve his career. The song has lyrics too which is in Salman style. It begins as… 'Main toh Superman Salman ka fan, jo leve mujhse panga, kar doon mein uska band.'
Sanjay confirms that Arjun has sung the song in the film. "It's the song which introduces Pintoo, who is from Agra, and leads to building-up of his character which is carefree, bindaas, tough and yet very lovable, much like Salman. The song also establishes the relationship of Pintoo with the friends. The song, situation, the essence of Agra and Arjun fits in with the lyrics along with a touch of Arjun's love for Salman in the film and in real life as well."
Trying times
Sanjay adds that song was shot under very challenging circumstances. "We have shot the song against the backdrop of the Taj Mahal in Agra and in Tajgung. It was an extremely difficult shoot as the gullies were so small that I would sit almost in the gutter space to look at the monitor. Sometimes there was no place but the jimmy jib camera and the cinematographer to enter besides the stars. There was no place to sit down. Once we were shooting under a bridge and to get permissions I went inside the police station nearby. The next day, there were headlines in some of the regional press that I had been arrested!" (laughs)