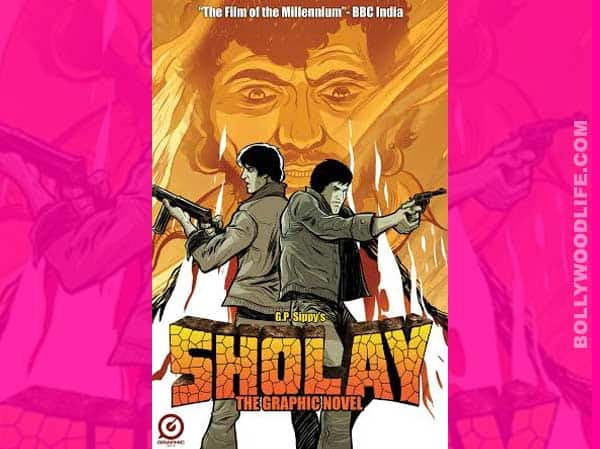 Comic episodic series of the film will be released in English and Hindi along with short series based on the film's characters
Sholay has been re-released in a spanking new 3D version and box office collections are just under Rs 8 crore, hardly stellar for a film considered India's greatest of all time. It is a well-known fact that director Ramesh Sippy, for various internecine family reasons, no longer holds the rights for his epic creation. Now that his father,  the revered producer GP Sippy is no more, that old refrain of 'whenever the Sippys are short of cash they re-release Sholay' is no longer valid.
The rights are now with Ramesh Sippy's nephew, Sascha. With funding from Jayantilal Gada's PEN Network, Sascha has spent north of Rs 20 crore to exploit the franchise. The question is, who is the Sholay franchise revival aimed at and how long can it be exploited. Most of the people who have contributed to the re-release box office are those from the nostalgia market. The vast majority of India's massive youth population have the attention span of gnats and are prone to dismiss Sholay as an old film, as the less than stellar box office numbers prove.
Whether Sascha, PEN and co recover their investment from the nostalgia market alone remains to be seen. They are also battling with a critical market force, or lack thereof. Unlike in Hollywood, apart from a few unauthorised, expensive coasters or cushion covers, the Bollywood merchandising market remains in its infancy. Action figures of Krrish 3, RA.One or Dhoom:3 are poorly made and overpriced and will never tickle a young person's fancy that a Batman, Superman or Spiderman will. And, in a market where print is declining, graphic novels (the fancy way to describe comics) based on movies even less so. Remember the Don 2 graphic novel? We neither.
That said, it is laudable that Sascha and co are trying to infuse life into a dead horse by releasing Sholay graphic novels. The graphic novel Gabbar is a "the secret history of one of Indian cinemas most legendary pop-culture icon's – Gabbar Singh" that will explore the "never before seen tragic and twisted story of revenge and redemption that turned an ordinary boy into India's most famous and feared villain".
More germane to the Indian youth of today is a motion comic episodic series of the same story that will be released in English and Hindi across mobile devices. Also released is a series of 'Sholay shorts' with stories based on individual Sholay characters. Sascha Sippy, Chairman of Sholay Media and Entertainment, says, "Gabbar Singh is without a doubt India's most remembered cinematic character. The plans for Sholay moving forward in this space are immense!"
All power to them.