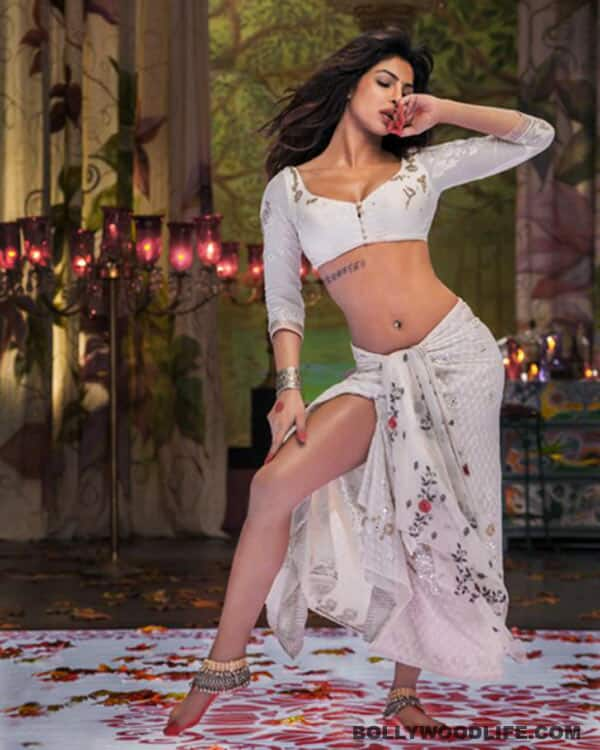 The first look of PeeCee's item number in Ram-Leela created quite a buzz! Here's some more to it
A few days ago the first look of Priyanka Chopra's item number in Ram-Leela was released, in which the Exotic babe is flaunting a tattoo on her starry ribs. Post that, there was a buzz that Deepika Padukone wasn't quite happy with Priyanka grabbing away the limelight from her. The latest we hear is that the filmmakers spent a whopping Rs 6 crore for her item number Ram chahe Leela in Sanjay Leela Bhansali's Ram Leela.
PeeCee is seen in a white outfit designed by Anju Modi in the first look of her dance sequence. She's seen flaunting her sexy long legs and oh-so-hot waist in the shot in Anju's creation. To get into the role, the actor spent ten hours to get ready! The reason being, she had to get tattoos painted across her abs. Well, so the tattoo which grabbed headlines was just a fake, painted one? Anyways, wouldn't a real tattoo look good on PC's nazuk kamar?
Apart from Priyanka's look, apparently, the song is set against a Moulin Rouge-meets-mujra-bar setting. For this set-up, the makers spent a whopping amount of Rs 6 crore. Our secret birdie also chirps that over 2,500 candles were lit in a single day!
With so much being spent for Priyanka's item number, Deepika's insecurity about PC getting more attention than her for Ram Leela is quite justified, no? While we've loved DP in her Nagada sang dhol number, we eagerly await to watch Priyanka shaking a leg in Ram chahe Leela! What about you, BollywoodLifers?