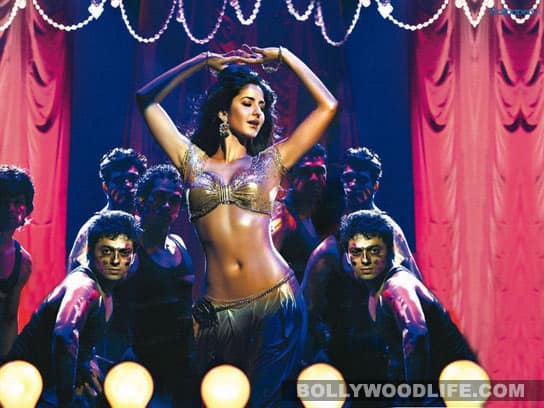 Item numbers are a money spinner these days. Gone is the time when only doctors and engineers boasted about how lucrative their profession is.It's the golden age of item gals and, as Bappi da rightly croons, 'Ooh la la, tu hain meri fantasy', they are indeed every man's fantasy.
So if you aspire to be an item gal, you might want to go through a couple of tips we have listed before going on an outright wobbling-wiggling-jiggling spree…
B-town's quintessential item girl should:
Be willing to don a psychedelic coloured outfit
This is a norm in B-town – unless you blind the viewers with that jazzy, multicoloured ensemble, you aren't considered an item gal. Hey, beautiful ladies, we suggest you keep that bling to a minimum, as every time you appear onscreen, we lose our vision for a nanosecond. Now you don't want that to happen, do you? After all, if the guys lose their eyesight, who on earth will savour your sensual dance sequences?
Learn coquettish moves
Now it's a helluva lot of hard work to learn these complex moves. Beginners usually refer to dhak dhak girl Madhuri Dixit for inspiration – she probably pioneered the 'pushing up and out the bosom' step.  It's not just about flexibility; a certain mixture of oomph, chutzpah and acrobatic ability should do the trick. You can start practising at home, but don't forget to shut the windows before doing that 'coz if, god forbid, you turn out to be a disaster, you don't want someone else to go through a mighty shocking experience. And a small investment in a good push-up, padded bra would help too…
Be an ultimate seductress
Biting your lips, batting those pretty eyelids, displaying your back cleavage in a backless choli, swaying your head sexily and unsteadily until several strands of hair fall over your face…that is how you draw the crowd and mint the moolah. It's an absolute art to not confuse seducing with contorting, and who does it better than our very own B-town chicks!
Be adept in all dance forms
To be an item dancer, you should know how to shimmy to every tune possible. Considering these numbers are a mindless mixture of bhangra, waltz, salsa, classical and many other forms, you might want to invest in Bollywood DVDs and observe and learn instead of joining a formal dance class.
Live up to her designated pseudonym
Sheila lived up to her name by doing her famous belly dancing thing; Munni did it by coining the Zandu Balm applying step; Razia made a dishful of jalebis…as you see, each one of these luscious ladies have their own USP and until you have that distinctive flavour to match up to your name, you are like a bland omelette without the much needed salt and pepper.Add some mirchis and make it all even more delicious!