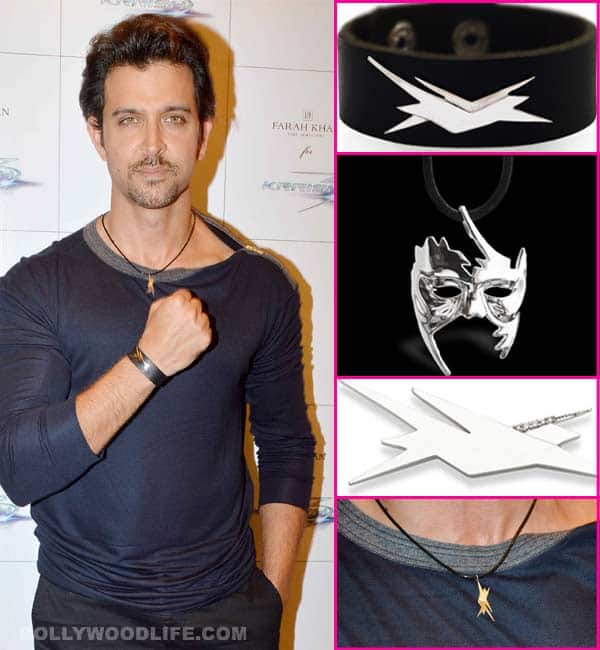 The superhero film is all set to hit the theatres and Hrithik has made sure to create a frenzy with accessories and merchandise related to the story. So here's how you can be a superhero too….
Gone are the days when you had to wear your chuddies over your pants to be a superhero. Over time superheroes have become more modern, more sexy, more hot and far more dapper. For his film Krrish 3 Hrithik Roshan, along with sister-in-law Farah Ali Khan has launched an exclusive line of silver and diamond studded jewellery. You can now buy Krrish 3 bands, pendants, brooches and chains online.
A short while ago Hrithik said, "Even though I had pain in my knee and back whenever I wore that jacket, there was a mental shift that happened and I felt unstoppable, unbreakable." The actor also reckons that there's a superhero in every individual. So, to get find this hidden potential and tap it, you too could wear a mask – at least, you could buy a mask pendant or a diamond studded brooch showing the Krrish mask. If Hrithik feels like a superhero in a Krrish 3 jacket, you can feel like one too by flaunting an accessory launched by the superhero himself!
The Krrish logo pendants are available in the price range of Rs 2, 500 to Rs 4,300. The Krrish 3 mask shaped silver pendant is available for Rs 3,050. Bracelets and brooches are available in the range of Rs 2,500 to Rs 5,250. And you can put the Krrish 3 charm around your neck for only Rs 2,500. So, kiddies, ladies, hotties and hunks, you could wear Krrish 3 accessories and be a superhero just like Hrithik Roshan, or just psych yourself into the flying hunk state of mind!