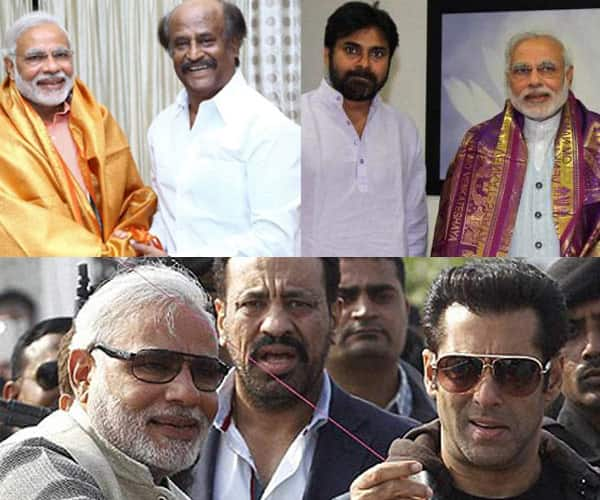 With NaMo flags flying high everywhere, Bollywoodlife brings you the to-do list for the future  prime ministerial candidates
What's the big news today? Now that's a no brainer. It's Abki baar Modi sarkar of course! With BJP winning the majority of seats hands down and NaMo gongs going off all over the country, we bring you a serious piece on how to become the next PM in 3 easy steps.
Step No 1: Share a light moment with Rajinikanth over a cup of tea at the Kochadaiiyaan superstar's house in Chennai. Don't believe us? Apparently, our new Prime Minister Narendra Modi ji met the Thalaiva at his residence for a tea time gupshup. At least that is what Rajini sir has been saying. The superstar stated that the meeting with NaMo was not a political discussion, but a simple catching up of two friends over a cup of chai. Rajinikanth also honoured our new PM by presenting him a silk shawl. Now we all know how  jokes on  powers of Rajinikanth  are trending on twitter and otherwise. And with Modi winning the elections, we wonder if it was Rajinikanth's Midas touch or the special tea that the duo shared the real reason for NaMo's success. After all don't we all know that Rajini can do what nobody else can. So we at BollywoodLife think that apart from aam juntaas support, Rajini's lucky streak did wonders for NaMo.
Step No 2: Welcome Salman Khan to your home for dinner and later celebrate Makar Sankaranti with him by flying kites in the clear January skies. The Modi-Salman meeting before the Bhai's Jai Ho release was so well publicised that it angered Bhai's Muslim fans. Sallu miyaan met Modi in Gandhinagar at NaMo's house and apparently had Undiyo at his home. But before the dinner was served, the star actor and star politician flew some kites celebrating the festival of Makar Sankaranti. Later we heard that the duo gorged on delicious Gujarati delicacies for dinner. Salman's association with Modi got him a flop as Jai Ho bombed at box office, but Modi having  spent some joyous time with Bhai went on to win the Lok Sabha elections 2014. We believe the Bhai was NaMo's good luck charm.
Step No 3: Meet the power star Pawan Kalyan and share a stage with him during an election campaign. We knew Pawan Kalyan's popularity in Andhra is unquestionable  when his decision to float a political party  named Jana Sena  Party was unanimously backed by the masses. We believe that NaMo cleverly encashed this popularity and used it in his favour, when he met the power star and praised the Attarintiki Daredi actor for his views on development. When all of this happens in a public platform during an election campaign, it's no surprise why the TDP-BJP alliance is leading in Andhra. The mutual respect between the actor and our new PM meant headache for Congress as Pawan Kalyan started campaigning for NaMo. The star urged voters to vote for Modi and asked them to await for the ache din as promised by our new PM.  We feel that having a star campaigner like Pawan Kalyan has paid rich dividends to Modi.
We have to wait and watch if the above said ache din are coming or not. But it is certainly ache din for Modi and BJP. So if you wish to be India's next PM, we suggest you to  develop close friendship with the 3 superstars and if possible drink tea with Rajinikanth, fly kite with Salman Khan and share a stage with Pawan Kalyan!